Itanagar
WI-FI Hot-Spot Inaugurated at Dera Natung Govt College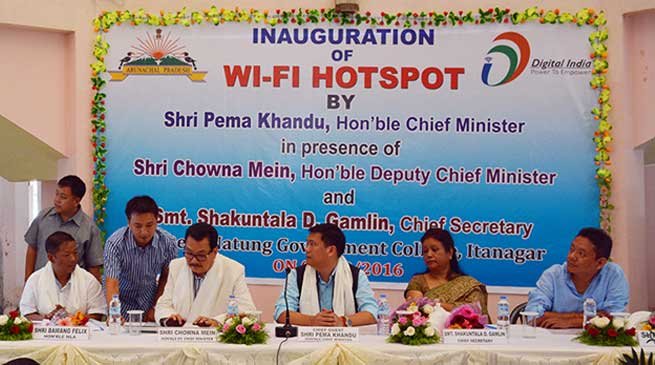 Itanagar
Making a step towards digitisation , Arunachal Pradesh Chief Minister Pema Khandu launched Free Wi-Fi Hot-Spot at Dera Natung Govt College at Itanagar today.
"This is a small but a significant initiative towards democratisation of knowledge", said the Chief Minister in his inaugural speech of the Free Wi-Fi Hot Spot (network).  "This pilot project has been launched in the Centre of Learning so as to bring internet closer to the students studying and faculties engaged in the institute at par with other premier technical institute across the country in the field of education & research".  It besides giving them easy access of requisite information through internet will also improve data communications leading to faster transfer of information within college officials and students. Also students and faculties can access the net on a click for their education and research within the college campus, he added.
He also said that the wireless networks created within the college campus which would give them access to the internet free of cost for education & research purpose without worrying about bucks spent on mobile data would be a big boon for them. This will also open a new opportunities for DNGC to offer new environment to its student and faculties to explore for better education and research options over the internet, he added.
Khandu while disclosing that the govt is planning to make Capital Twin City a free Wi-Fi Zone steadily stated that it is also a step towards Digitisation of India a vision of Prime Minister Narendra Modi. Govt would also make efforts in the long run to connect the villages with such internet facilities to make them associated with the programmes and policies of the govt as a part of Digital India Programme.
He exhorted the student community to concentrate on studies, work hard and to remain focus on their vision and advised them not to derail from the mainstream. He further exuded hope that the student community would use the Wi-Fi Hot Spot in constructive and right way.
Deputy Chief Minister Chowna Mein said, "Wi-Fi Hot Spot is a boon for the student and student friends will have no boundaries for learning". Mein said Dera Natung Govt College is not only privileged but achieved a distinction to have the first Institute of the state to have free Wi-Fi Hot Spot. He urged the student to leverage the benefits of this technology and advised them not to misuse the facility.
Chief Secretary Shakuntala D Gamlin while speaking on the occasion said, "It is a milestone in the educational and academical field of the state".
Sonam Chombay, Secretary (Information Technology) in his introductory speech said that Wi-Fi Hot Spot at DNGC Itanagar was conceptualised by the Department of Information Technology & Communication keeping in mind the vision of Digital India Programme. He informed that the network is a foolproof secured network with 15 numbers of Access Points (AP) installed in the DNGC Wi-Fi Hot Spot system. Each AP provides internet to around 50-70 m radius of area to the college and all the AP are protected with adequate security like firewall and denied access to unwanted phishing, spamming and malware sites.
He further informed that it has 2 sets of User ID, one will provide free access to the faculties for 24 hours and the other will provide free access to the students but denying access to some unwanted sites from the period 9:30 AM to 3:30 PM.