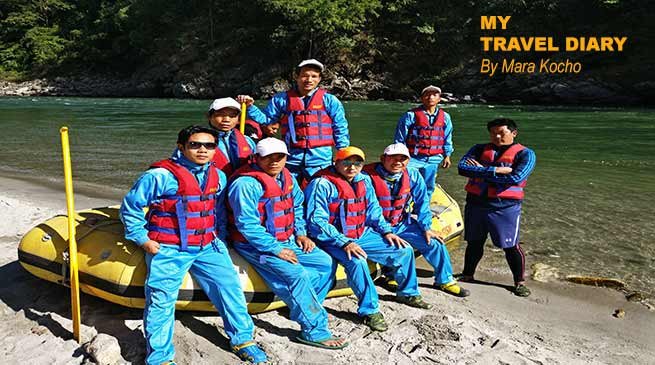 Seppa
By Mara Kocho
In a bid to contribute tourism promotion in East Kameng District, Arunachal Pradesh particularly in adventurous sports, Rang Adventurous Team consisting of seven members namely Mara Kocho, Kaya Rang, Rai Tamar, Aabing Tallang, Taguk Rang, Sangkam Tamar, Ashok Rang under the aegis of Rang Welfare Society (RWS) set off for 3 days season's first White Water Rafting on Kameng River from Pacha Morang, Seppa to Kimin, West Kameng on 9th to 11th December 2017.
The white water river rafting team set off from Pacha Morang, Seppa on 9th December 2017 at 7:00 AM was guided by certified rafters namely Lokar Tallo, Nibu Beyong and Tabya Dodum of KEAC. They manoeuvred the rafting boat excellent at par throughout the rafting stretch of over 100KM which culminate at tail race point of 600MW Kameng HEP by NEEPCO, Kimin, West Kameng on 11th December 2017 at 1:30 PM. The rafting expedition gave the team an experience of lifetime beyond description in words. The most exciting moment was when the boat followed rapid waves toasting up and down, turning 360 degrees and hitting rocks though that was very dangerous while rafting.
The team hold its first night at the confluence point of Pappu and Kameng River after negotiating undulating series of rapid waves or simply rapids in rafting term and second night at a point about 40KM from Pappu-Kameng River confluence. The team found more than 80 rapid white water waves in the rafting stretch.
The rafting team sighted birds and wild animals such as hornbill, crane, deer, leopard, monkey, elephant etc and varieties of fishes on its way to rafting along Kameng River. It was jokingly told by the KEAC members that all kinds of wild animals found on earth dwells here in the stretch.  It may be to a certain extent truth as the team could find different types of foot marks on the river bank which was difficult to identify for non forester like the rafting team members.
Towards the end of rafting expedition, the team felt that White Water River Rafting over Kameng could be the most potential adventurous tourism for East Kameng and West Kameng. A tourist once tried would definitely look for second or third or even more trips. As of now takers for this rafting is very less due to unawareness of the people from outside the state and countries. Tourism Department, Govt. of Arunachal Pradesh should conduct white water rafting expedition over Kameng river in this stretch every year to promote tourism in larger way. Once developed fully could earn handsome revenue to the department with job opportunity to the local youths.