Arunachal
When Thutan Broke Down his Tears before Chief Minister Pul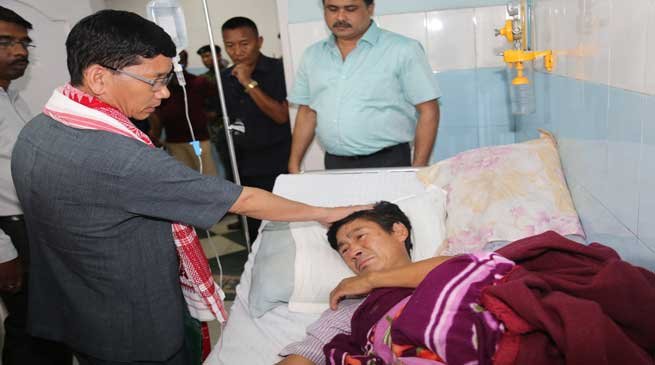 Guwahati
Forty-Four-year old Wangpa Thutan, injured in the May 2 police firing of Tawang broke down when Chief Minister Kalikho Pul visited him here at Hayat hospital on Thursday. Thutan was unable to control his tears moved by the words of comfort expressed by the Chief Minister. He suffered femoral shaft fracture after a bullet hit him in his right thigh.
 The CM softly patted on Thutan's forehead and consoled him, enquiring on his health conditions and assured him of all financial support until full recovery. The CM also checked on the X-ray information to assess the extent of damage to the femur bone.
Extending financial support for the treatment, the Chief Minister gave away Rs 2 lakhs from his personal source. This is in addition to earlier financial assistance of Rs 6 lakhs as ex-gratia relief and Rs 1 lakh from CM's personal source.
For Thutan to recover fully, it would take almost 18 months, the doctors told the CM. He was brought to the Hayat hospital in a very critical condition and was directly admitted to the ICU. Further delay and complications could have led to leg amputation had it not been for timely medical intervention, informed the medical authority.
 The Chief Minister advised Thutan
on number of physiotherapy courses and suggested him to do breathing exercises to regain mental strength during the treatment.
Regular meditation and breathing exercise would regulate blood circulation, which would help the patient recover fast, said the CM and asked the hospital authority to help Thutan with such exercises.
The CM also advised him to strictly follow the instructions of the doctors and assured to provide full financial help if the need arises for further treatment outside North East.
Further the Chief Minister asked the hospital authority to take full care of the patient and drew satisfaction from the service offered by the hospital. The CM also interacted with the doctors and other patients admitted in the hospital.