Arunachal
Wangki Lowang Provides Relief to Fire Victims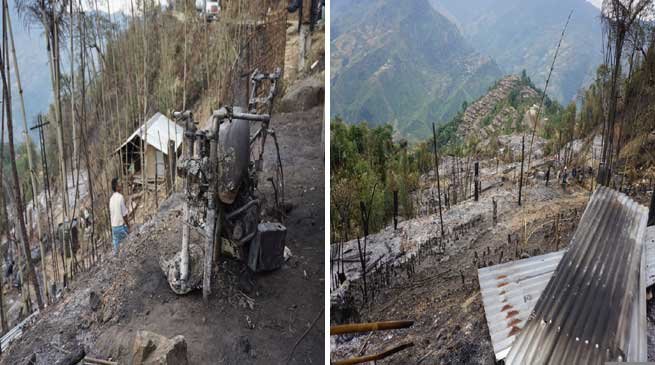 Itanagar-
The Agriculture minister Wangki Lowang while expressing his shock and grief over the loss of life of a woman and gutting down of 55 dwelling houses in a devastating fire mishap at Wakka village on 22nd December said that he was with the unfortunate victims in this hour of unpre cedented crisis and extreme calamity.
The minister assured the victims that he would do everything possible at his level to mitigate and assuage the sufferings of the people. In the mean time, Lowang has appealed all leaders, organizations, NGOs, Churches and business community to extend their willing humanitarian aids to the people of Wakka village adding that even a small contribution in cash or kind would act as a succour for the victims who had lost everything in the fire accident.
On behalf of the people of 54-Namsang the Minister despatched 30 quintals of rice and 50 woollen blankets on 24th December through his wife Smti Chango Lowang and his son Dr. Taam Lowang.
The people of Wakka have expressed their gratitude to the Minister. While expressing his anguish and sadness over the frequent fire mishaps, especially in Wakka in Longding district and Lazu in Tirap district, the Secretary of Society for Promotion of Nocte Indigenous Culture (SoPNIC) Denhang Bosai said, "Our people never seem to learn from their past mistakes.
wakka and Lazu are known for unfortunate fire mishaps. Year before last also Wakka village was partly destroyed by an inferno in which many dwelling houses were completely gutted. But still the villagers continued to construct their thatched houses closed to each other. Wakka and Lazu have enough scopes to settle some families in new habitation areas so that the houses in the original villages can be constructed sufficiently apart to prevent recurrence of fire accidents." He has also passionately appealed to all sections of people to extend their help and support to the victims in this hour of grief and loss. A woman died in the mishap and property and livestocks worth in crore were destroyed.