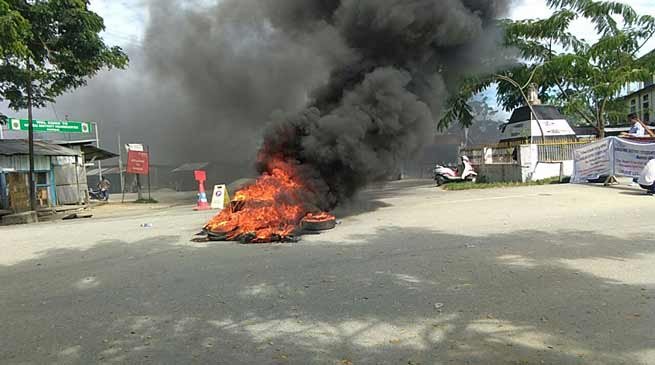 Itanagar
By Manoj Singh
Violence marred during the Arunachal Pradesh bandh as normal life came to a halt in all over the state following the bandh called by the All Arunachal Pradesh Students Union (AAPSU) in protest against the Union Home Ministry's recent decision to grant citizenship to Chakma and Hajong refugees of northeast.
The peaceful bandh turned to violence in state capital wherein the protesters mostly of them were students community and youths staged protest march shouting slogans .
Several government and private vehicles were torched which include one  long distance APST bus was burned down near Zero Point Tinali, a car near Gohepur Tinali while several private and government vehicle were damaged which include police bus at Bank Tinali and several others at various location .
The National Highway from Chimpu-Banderdewa was blocked with the help of big logs, trees, boudlers, electric polices and tyre were seen burning the whole day making complete halt on the traffic movement in the state capital.
At Bank Tinali the protesters turned violence when the protesters were marching toward Ganga area shouting slogans and during to confrontation and little soufflé the protesters damaged a Police bus and stone pelting continue and to stop the protesters from stone pelting who were in hundreds the security forces resorted to lathi charge in which several students and security forces received injuries. Protesters were gherowed however they were freed later.
Students of Rajiv Gandhi University staged procession from RGU campus to Bage TInali in Nirjuli.
Longding report said that that the students in school uniform carried out protest march in the district headquarter while volunteers of Women Welfare Society of Namsai carried out procession against Chakma-Hajong.