National
Vibrant Gujarat Global Summit- PM Modi Visits Arunachal Stall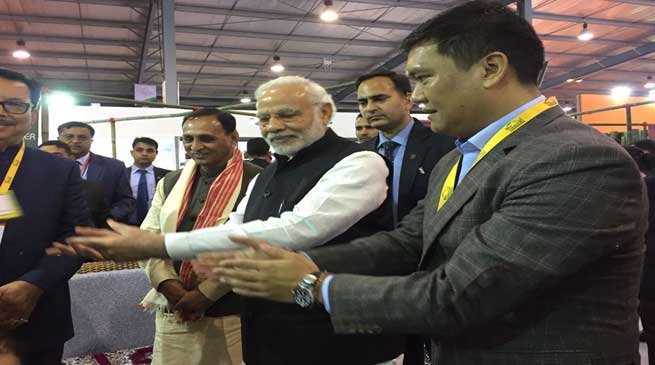 Ahamedabad
Arunachal Pradesh today drew hundreds of visitors to its stall at the Vibrant Gujarat Global Summit-2017 and received rave appreciations from all including Prime Minister Narendra Modi.
Arunachal stall with the theme of organic -agri, horticulture, heritage, textile and culture was one of the 9 stalls of  about 200 stalls visited by Modi along with Gujarat Chief Minister Vijay Rupani here today.
The Prime Minister went around the stall and spent maximum time in appreciating the traditional handlooms, organic agriculture and horticulture products, orchids and historical tourist sites.
He was extremely happy to visit the Arunachal stall and congratulated Arunachal Chief Minister Pema Khandu and Deputy Chief Minister Chowna Mein for putting up a grand show in the Vibrant Gujarat Global Summit.
Touted as the biggest of the biennial business summits, which was conceived and launched by Modi when he was Gujarat chief minister in 2003, the eighth edition will see more than 6,000 delegates participating in eight seminars and business-to-business and business-to-government meetings.
Two truck-loads of various exhibits were transported from Arunachal to Gujarat with an aim to attract potential investments in myriad sectors in the state.
Khandu has been putting enormous effort in luring corporate giants for investing in the state and Arunachal's participation in the Vibrant Gujarat Global Summit is one such platform to showcase the rich potentials of the state to the investors.
A high level investment summit and a state seminar of Arunachal will be conducted tomorrow.
State guests to be present at the inaugural ceremony on Tuesday include Presidents of Kenya (Uhuru Kenyatta) and Rwanda (Paul Kagame); Prime Ministers of Portugal (António Costa) and Serbia (Aleksandar Vučić), and Deputy PMs of Russia (Igor Ivanovich Shuvalov) and Poland (Mateusz Jakub Morawiecki). Memorandum of Understanding worth Rs 30 lakh crore are expected to be signed during the summit.
After the inauguration, Modi will chair the CEO Roundtable on Transforming India. John Chambers, chairman of global technology giant Cisco; Bertrand-Marc Allen, president of Boeing International; and CEO of French electricity giant EDF, Jean-Bernard Levy are among the international CEOs to be in attendance. From India, Reliance Industries chairman Mukesh Ambani, Adani Group chairman Gautam Adani and other leading industry captains will be part of the CEOs Roundtable as well as the inauguration ceremony.
The Centre is putting its weight behind the summit. Besides the Prime Minister, 11 union ministers including Arun Jaitley, Manohar Parrikar, M Venkaiah Naidu, Piyush Goyal, Nitin Gadkari are expected to attend the event.