Itanagar
USIYF threatened movement if PWD fail to award road construction latest by September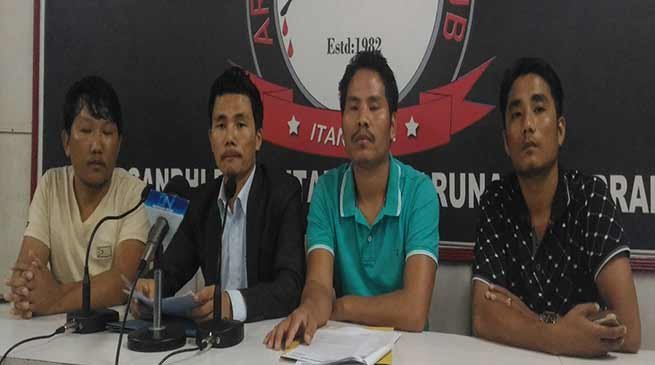 Itanagar
United Sangdupota Intellectual Youth Forum (USIYF) Chairman Teli Tadap Camdir,  has strongly condemned the delay in work process on construction of Itanagar- Jote road, functioning of National Institute of Technology (NIT), functioning of Law College, slow progress of work in constructing of Entrepreneurship Development Institute (EDI) and Film & Television Institute (FTI) and will subsequently go for indefinite fight against the concerned department if the whole work progress is not done within last of this month, he said.
Due to the incomplete of bridge over Papum River and bad road connectivity all the works related the development is stuck. Beside many approaches to the concerned Minister of the area, chief minister and deputy chief minister so far no work is on progress. The people residing over the area are suffering due it- Tadap said.
He said despite of qualifying the technical and financial process of road construction by a Firm M/S Tana Hali constructions and co. why the department is yet not providing the green signal for the work. Tender paper process should have been completed within the four months of publication and now it's been six months. Yet the work has not been handed over to the constructing firm terming excuses on Justification Rate which was never mentioned on the tender paper while advertising.
According to the guidelines NIT at Jote is all finished but yet the said is functioning as temporally at Yupia without full fledged director. Through the DPR of Law College at Jote has been completed many months back but yet the government is not able to let function the academic session, he said. There is full negligence and some fishy act going through whole process of work on EDI and FTI. Where the work of EDI construction is very slow and no advertisement on clearance of jungle in the located site of FTI has been done by the government. The government has to work on early completion of the said work, Tadap added.
Many villages under Sangdupota area like Mebiaso, Habia and Tapioso etc are deprived with basis need because of the poor quality of road. Meanwhile Itanagar to Jote road is the only life line of connectivity to the rest of the area. The government must look to the said matter as soon as possible and act on it for the betterment of the area and state as a whole. Else the forum has said to take up indefinite action against the department as well government.
He however said that if the PWD fail to take a suitable action within September the organization with support of general public will compel to take the part of democratic movement against the department