Arunachal
United Charity organises Awareness camp on Open Defection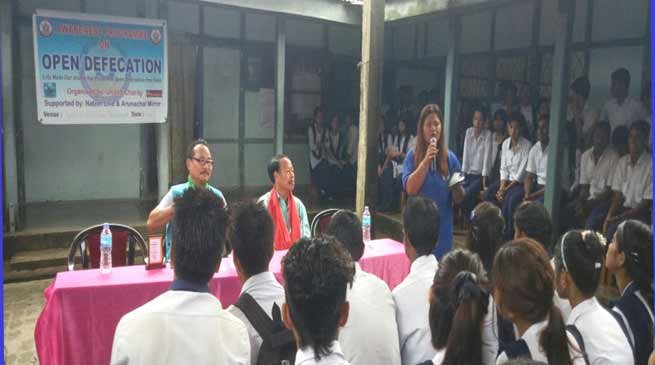 Naharlagun
In an attempt to spread awareness on much vital yet neglected topic on Open Defecation, United Charity a local based NGO organized an awareness programme at Government Higher Secondary School, Naharlagun in the presence of Extra Assistant Commissioner (EAC) Naharlagun Hento Karga.
Open defecation is the initiative under Swach Bharat Abhiyan, Central Government had set an target to 2019 to make India 100 percent free from open defecation, whereas State Government set target of December 31st, 2018 but later changed the dateline to Dec 31st, 2017 and also that Arunachal due to its fewer population is 87 percent free from defecation and 13 percent under open defecation, but if people are not aware then is toll may be increased and our NGO had come forward to help the state government for the mission of cleaner Arunachal, said Chairperson of United Charity, Sangge Droma.
NGO also informed that throughout the August month, mission Open Defecation will be on in different schools of Capital Complex to eliminate the impurities in the society and make people self-aware to not urinated in public place and litter garbage.
Impressed by the responsibility taken to aware on Open Defection by United Charity (NGO), EAC Hento Karga encouraged their innovative idea and assured to support the NGO for the noble cause.
Later EAC also promised to donate a water tank of 2000 liters capacity to Government Higher Secondary School, Naharlagun.
The positive response by the students was seen who participate in the awareness programme and during interaction round student openly and eagerly queried about Open Defecation.