National
"Udaan Scheme" to be introduced in the NE states- Pul Urged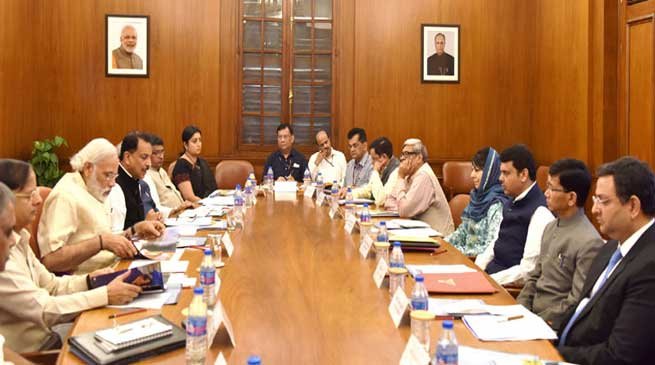 New Delhi
Calling for centre's intervention in skill development, Arunachal Chief Minister Kalikho Pul urged for "Udaan Scheme" to be introduced in the NE States, particularly in the states of Arunachal and Sikkim, which is a Special Industry Initiative for Jammu & Kashmir of the Ministry of Home Affairs and implemented by National Skill Development Corporation.
Chief Minister Kalikho Pul on Thursday called for centre's intervention in improving skill development in the northeast to create employment opportunities, at the mid-term review meeting of the governing council of the National Skill Development Mission (NSDC), chaired by Prime Minister Narendra Modi.
The scheme that aims to provide skills training and enhance the employability of educated unemployed youth of J&K, would enable Graduates, Post Graduates and three-year engineering diploma holders of the North East also, to be chosen by Corporates and trained by them, he suggested.
The Chief Minister also urged for continuation of the centrally sponsored Skill Development Initiative (SDI), which is likely to be subsumed with the Pradhan Mantri Kaushal Vikas Yojana (PMKVY).
He pointed out that SDI scheme is the most suitable, as well as the most successful scheme under implementation in the State, under which till date 11,658 unemployed youth in Arunachal (0.85% of state population) were imparted employable skill development training and 3500 skilled youth are working in various sectors/organization all over the country.
Further Pul suggested that as alternative, the Govt of India might consider incorporating similar provisions and incentives within the PMKVY. An informed effort may be made for bringing the positives of the SDI into PMKVY, so that the ideal of having one flagship program instead of several smaller ones is upheld.
Pul also asked for setting up of two centres for Overseas Employment, which is being proposed under the NSDC and the Ministry of Skill Development and Entrepreneurship. He requested that at least 2 such Centres to be set up in Pilot Project mode in the northeast; one at Itanagar and another in Assam.
Insisting on the importance of such centres in northeast, he said that the youth from the region have good language skills in English, and also have the aptitude for the service industry as can be seen from the fact that in almost the entire hospitality and merchandise industry today, our young people are engaged.
Emphasising on building capacity of the trainers, the CM urged for setting up of Regional Institute of Training of Trainers (RIToT), pointing out that no such training institute exists in any one the northeastern states presently. Pul proposed to setup a RIToT with funding from the Union Govt. requesting the Govt of India to consider providing funds for this Institute on a priority basis.
The Chief Minister informed that under the 'Student-Paid' model, the University students are unable to pay the requisite fees of Rs 15000 by the end of 3rd year of Graduation. Though this is a bare fee, for students in the northeast, it creates a big economic burden, he said.
Pul requested the Prime Minister to explore if similar to the Udaan scheme; University students could be funded for skilling. He suggested that Ministry of Tribal Affairs could fund the top 50,000 students through scholarships from State Government and Central Government colleges, who can be filtered by respective Universities through a common criterion to be defined,
To reinforce the impact of Pradhan Mantri Kaushal Vikas Yojana (PMKVY), the CM suggested that training in traditional skills such as handicrafts and handloom, wood carving, thankha painting, etc. need to be structured as grant-based programs and not subsidy-based.
He pointed out that since these are being undertaken as a tradition and also for the protection and continuation of such skills, preparing a national level occupational standard might limit the creativity involved.
He further suggested that a Regional NSDC handholding and Monitoring Centre may be created at Guwahati at the earliest. States should be actively engaged by this team and support extended up to the block level centres.
Sectors such as handloom, handicrafts, agriculture, horticulture, construction, tourism must have their regional office in north east and engage in identifying local training providers, grooming them, affiliating them, etc, said the Chief Minister.
Along with host of other dignitaries, Union Skill Development Minister Rajiv Pratap Rudy also attended the meeting.