Itanagar
TWS laid foundation stone Trekking route to Langa tatah, Rayung Dumchup and Pwalang Sangri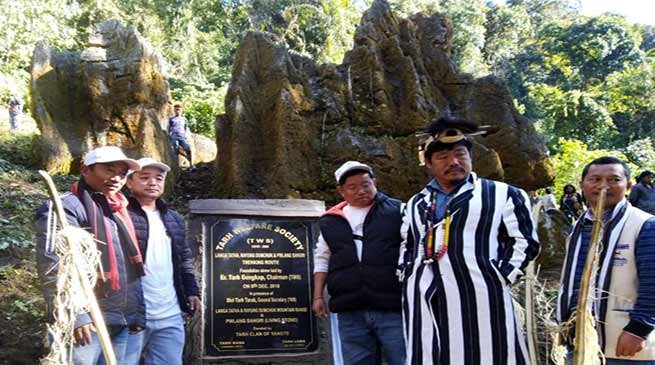 Langa tatah, Rayung Dumchup and Pwalang sangri (living stone) mountain range at Yangte Circle gets Trekking route.
---
Itanagar
The Tarh welfare society led by the chairman Tarh Gongkap in presence of  General Secretary TarhTarak laid the foundation stone  of Trekking route to Langa tatah, Rayung Dumchup and Pwalang sangri (living stone) mountain range at Yangte Circle on 8th December amid huge public gatherings including the Yangte former Zpm Tarh Monika and TWS former Chairman Tarh Talo.
TWS GS Tarh Tarak inform that last year  this  particular  Pwalang sangri (living stone) look like a beautiful sculpture of several standing stones was discovered and the media team led by Manoj Singh from Itanagar visited the site personally and flashed the first hand report to out side  world through various print and electronic media's.
Tarh welfare society in our endeavour to expose the hidden secrets of this historic naturally formed stone carvings believed to be the kingdom/dwelling of god will deity that protected and gave lives to Abu Tarh offspring/ generations since  time immoral to till date..
The  society has decided to preserve this most valuable heritage sites for  next generations and have officially taken over  pwalang sangri and  Rayung  Dumchup mountain range by laying foundation for the trekking  expedient route which shall be annually organised by the local people and the TWS.
He said that the Mountain Range of Langatata , Rayung Dumchup and Pwalang sangri  were donated by the Tarh Community of Yangte Circle. The TWS express our sincere gratitude to the Brothers and sister Yangte Circle for their positive gestures to donate the land for the betterment of the society in long run and planning to convert the place for tourist attraction.
During the year officers from district administration,  department from Geology & Mining, Department of Research, Geological Survey of India and few Research scholars have already visited the area and it is expected that the officers from Tourism department would be visiting soon to see the place and hope that the place (sculpture of standing stones) would be converted into the place for tourist attraction.
Earlier on December 6 the 2nd  year  mountain trekking expedition to Langa tatah, Rayung Dumchup  was flagged off from Yangte Circle on by Tarh Welfare Society (TWS) General Secretary Tarh Tarak where more then 100 members participated the events..
Langatata and Rayung Dumchup peak is the highest mountain peak in entire Kra Dadi district ,it's altitude is measured at 9000 feet above sea level. Tarak added.