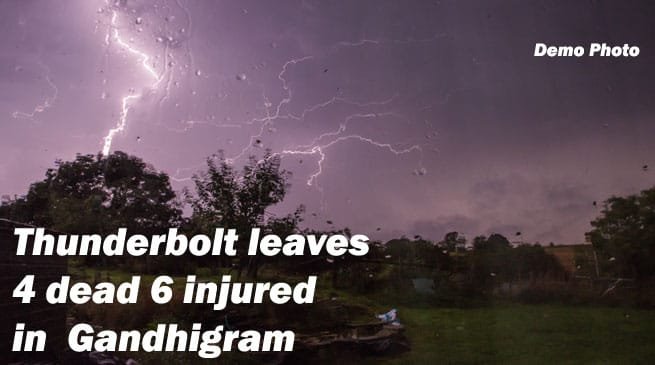 Miao
By Indrajit Tingwa
At least four persons died when thunderbolt striked them while working at a farm in Gandhigram in Vijaynagar circle today around 11am. The dead includes minor girls and a woman with four children.
At least another six persons including students are said to have receive injuries and are in a critical stage who urgently require immediate medical attention.
The administration till the filing of this report has been making fervent arrangements to evacuate the injured.
Read this also- Gandhigram Thunderbolt incident- CM Orders for Chopper Service to evacuate injured
A chopper is the only option for carrying out immediate evacuations from a place like Gandhigram which takes atleast four to five days of trekking to cover the more than hundred kilometre distance from nearest town Miao. Even if a helicopter is pressed to service, the nearest helipad is about 25 kilometres from Gandhigram therefore administration is making arrangements to make a temporary helipad there.
The unfortunate incident occurred when the people were gathered to extend help in a fellow villager's farm. The dead are Miss Jalina Yobin,12 years, Class V, Miss Chanisa Yobin, 14 years, Class IX, Miss Chathaye Yobin, 13 years, Class VI and Mrs. Sholida Yobin,38 years. Amongst the injured, four are women, one man and a boy of 8 years.