North East
TCS offer letter distributed at Kaziranga University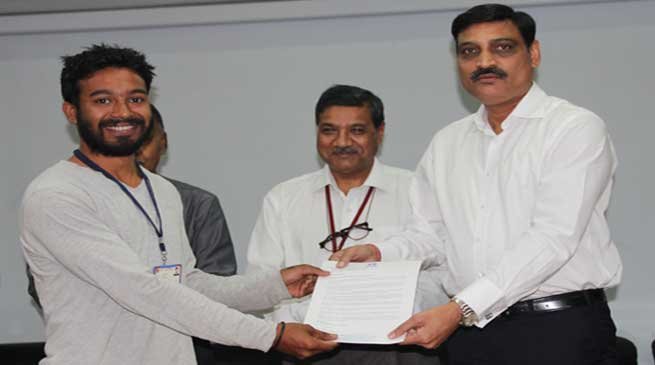 Jorhat
To laud the success of the Tata Consultancy Services (TCS) Campus Recruitment Drive that was held at Kaziranga University earlier this year in February, a celebratory event was organized in the KU Campus on the 24th of March 2017. This event saw the distribution of the TCS offer letters to the 68 deserving candidates of , who were selected from amongst 569 students from all over the region, after a grueling selection process.
As a part of its Corporate Social Responsibility, which deals in bringing academia-industry interface for the students of the North-East, Kaziranga University had organized the 3rd Campus Recruitment Drive for TCS on the 10th of February 2017. Tata Consultancy Services, an IT services, consulting and business solutions organization, offers a consulting-led, integrated portfolio of IT, BPS, infrastructure, engineering and assurance services.
The ceremony was attended by the Pro-Chancellor of Kaziranga University, Shri Basant Khetan, the President of the North Eastern Knowledge Foundation (NEKF) Dr. P.K Mishra, and the Vice-Chancellor of Kaziranga University Dr. Sunil Rai, who presented the offer letters to the selected candidates. Faculty and staff members of the University, parents, guardians and students were also present.
The selected candidates were from Kaziranga University, Bahona College, Chandra Kamal Bezboruah Commerce College, Chandra Nath Bezbaruah College, Dibru College, Golaghat Commerce College, Jagannath Barooah College, Jogananda Dev Satradhikar Goswami (JDSG) College, Jorhat Institute of Science and Technology, Kakojan College, Mariani College and Nazira College.
This event was organized by the Career Development and Placement Cell (CDPC) of Kaziranga University, supported by the KU Marketing team. Kaziranga University is leading the effort to give the final-year graduating students of Assam a chance to have first-hand experience of placement drives. The University's career-counselling programmes, which are also a part of its social responsibility, lays special emphasis on empowering students by imparting industry-ready skills, which enables them to get good placements in and off campus drives.