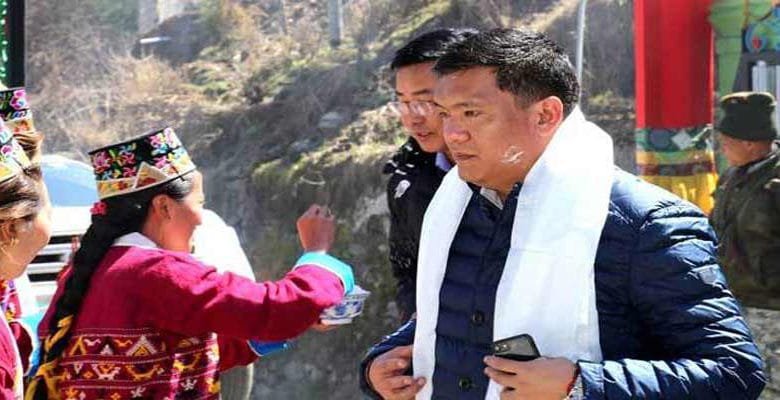 Tawang 
Chief Minister Pema Khandu today hosted a function at Jang headquarters to mark the traditional Tibetan New Year – Losar 2144 – the year of the fire bird.  The function held at Jang general ground was attended by Chief Guest and Minister for Art & Culture, Dr Mohesh Chai and Health Parliamentary Secretary, Phurpa Tsering.
Speaking  on the occasion Chief Minister Pema Khandu informed the people about several reforms and decisions taken by his government for the welfare of the people. Khandu also handed over a cheque of Rs 2.99 crore to the district administration on behalf of Border Roads Organisation to be paid as compensation to the land owners who land were acquired for widening of road from Sela pass to TCP BRTF point .
Extending Losar greetings, Dr Chai appreciated the remarkable qualities in Monpa community that has contributed to Tawang becoming the most desired tourist destination in Arunachal. He credited it to the incredible hospitality shown by Tawang people, which have added beauty to the already blessed paradise.
"Had Tawang been a separate state, it would have performed far better than Sikkim," said Dr Chai.
Appreciating Khandu on becoming the youngest Chief Minister in the country, Dr Chai  said that he has put an end to old notion of seniority being the criteria to become the CM solely through his talent and dynamism.
Referring to 'Team Arunachal' slogan raised by present government, Dr Chai said: "These are not mere words, but a call to our elected leaders, bureaucrats, PRI leaders, community leaders and public to cooperate and contribute for the betterment of the state."
"Leaders alone cannot work if people do not cooperate and help themselves. If we do not march together, we can never go ahead," he asserted.
Expressing his gratitude on being invited for the festival, Dr Chai expressed thanks to the Tawang people and advised them to be sincere and discipline – as these are the qualities that will benefit not only the individuals but also the whole society. He also asked them to give importance to education saying that it is the knowledge and wisdom learnt that would never leave you.
Speaking on occasion, Phurpa Tsering called for language exchange courses in schools between the dialects of Tawang and Dirang Monpas, to unite the tribe in every fold.
Responding to several appeal from local community on health issues, he announced that the present government has placed adequate funds in health sector in this year budget. On medicine availability, he informed that the government has decentralized medicine procurement so that local requirement could be met.
A colourful cultural presentation were made by artistes from Jang village and nearby communities including performers from Tawang Monpa Employees Society (TMES). The guests on their arrival were accorded a warm traditional welcome.
The function was also attended by Tawang MLA Tsering Tashi, Tawang ZPC Chairperson Jambey Tsering, Deputy Commissioner Sang Phuntsok, 42 BRTF commander RS Rao and Jang ADC Lobsang Wangchu Bapu.