Arunachal
Tawang- Jomde Kena visits District Hospital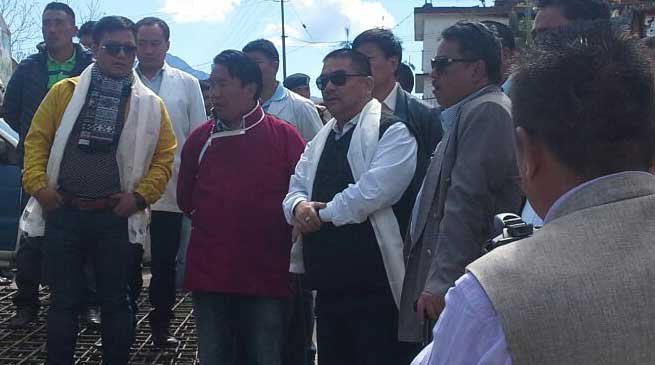 Tawang
The Honble Minister for Health & Family Welfare, Govt. Of  Arunachal Pradesh  Jomde Kena visited District Hospital , Tawang to take stock of the health care facilities available. He was accompanied by  Chairman, Hydro Power Development Corporation Tungri Effa,  MLA Tawang Tsering Tashi, Deputy Commissioner  Sang Phuntsok and Chairperson Zilla Parishad Jambey Tsering.
He also inspected the construction site of the upcoming 101 bedded  Indoor Patient Ward and directed the concerned executing agency and the DMO to assure quality and  timely completion of the same. While reiterating on the emergency nature of service of health care providers including the doctors, nurses and all other staffs which is directly linked towards saving human lives , he requested for utmost dedication from each one. Further, impressed with the cleanliness maintained in and around the premises,  he opined that the hospital deserves recognition such as Kayakalp Award, a Govt. of India initiative to promote cleanliness and hygiene and to recognise the public healthcare facilities that show exemplary  performance in adhering to standard protocol of cleanliness and infection control. The minister also enquired about  the performance of Khandro Dawa Sangmo Nursing School and the healthcare facilities outside the District headquarter.
Various problem related to the hospital including the scarcity of emergency doctors, specialists,staff quarters, problem in evacuating the emergency patients etc were put forth before the minister by the DMO Sri.Wangdi Lama. DMO also apprised the minister of the construction of DMO office building which was started in the year 2008 but came to a standstill after achieveing almost 30% work owing to paucity of funds. Further, he also highlighted the inability of the department to run the installed incinerator due to non receipt of funds for procuring fuel, thereby acting as a hindrance in proper waste disposal.
The Minister after giving a patient hearing to all the grievances, said that Health Sector is of utmost priority  and that the Govt. is fully committed towards improving the same. He assured that all the problems highlighted before him during the visit would be seriously looked into and further sought for cooperation in achieving the desired results.