Arunachal
Tawang- Event on Environment & Forest Awareness and Wildlife Sensitisation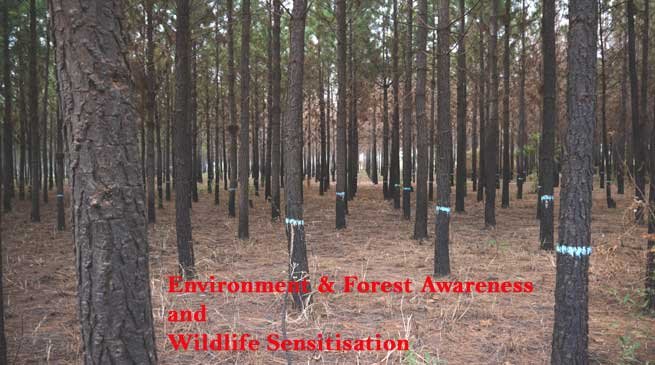 Tawang 
A day long event on Environment & Forest Awareness and Wildlife Sensitisation was organised on Saturday  by the Department of Environment and Forest, Tawang at Zomkhang Hall. While appreciating the efforts of the officials of the department ,  Chief Guest Jambey Tashi, MLA Lumla cum Parliamentary Secretary RWD also requested for conducting similar programs and educating masses at grass root level.
Expressing  happiness and enthusiasm over soon to be built Rhododendron park in Tawang, he opined that the same would not only add to the scenic beauty but would   also conserve the various species that are on the verge of extinction. Taking strict note of the endangered species of Red Panda, Musk deer, black necked crane etc, MLA cautioned those indulging in hunting activities including officers and public leaders  to refrain from the same. With regard to the incidences of forest fire in the district,  he asked the leaders to educate villagers regarding  the myths associated with the same and the damages caused to the environment.
Advocating for  planting trees by one and all, MLA suggested for proper nurture and care of the planted saplings and assured of his full cooperation in all endeavour of the department.
RK Singh, CCF, Western Arunachal Circle also dealt at length on the importance of forest and wildlife and need for its conservation. Taking instances of  man made disasters, CCF said that all necessary steps need to be taken to mitigate the damages and requested participation from everyone for maintaining the bountiful resource endowed to us by nature. He emphasised that development is needed but not at the cost of environment.
Abdul Qayum, DFO, Tawang also gave an overview of the current departmental works including Status of Green India Mission : Restoration of Wetlands, Nature Interpretation Park, Modern Nursery etc.
Cultural performance from Snowlion troupe and skits displayed by school children depicted the co-existence of man and wildlife  and the need to protect environment and forest. A detail presentation on Wildlife Presence and Conservation Effort was also given by representative WWF Lham Tsering.