Arunachal
Swachh Bharat Abhiyan- A people's Movement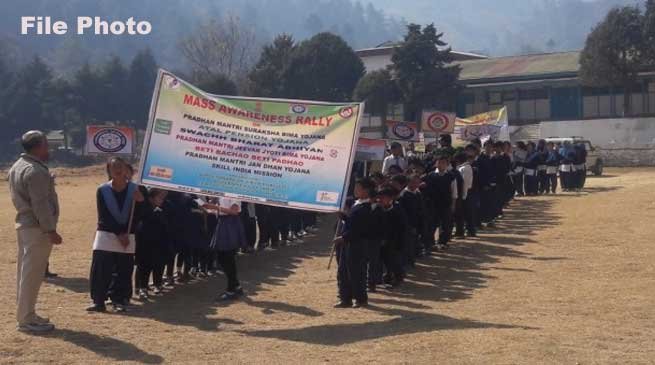 Bomdila 
By- Gocham Taga
The 145th birth anniversary of Mahatma Gandhi was made more meaningful on 2nd October 2014 with the launching of Swachh Bharat Abhiyan throughout the length and breadth of the country as a people's movement.
Launching the national movement in New Delhi then, Prime Minister Modi had ardently called upon the countrymen that 'A clean India would be the best tribute the country could pay to Mahatma Gandhi on his 150 birth anniversary in 2019'. Initiating and taking the lead role through his words and action, Modi paved the way for others to join in the mission thus making Swach Bharat Abhiyan a mass movement across the nation.
Since then, people from every walk of life has come forward and joined this mass movement of cleanliness. From the need to be prodded government officials to public, Bollywood actors to sportspersons, industrialists to spiritual leaders, NGOs to unions, jawans to a commoner, community based organizations to students; all have stepped forward for the noble cause.
The centre government had restructured the Comprehensive Rural Sanitation Programme (CRSP) in April 1, 1999 and launched the Total Sanitation Campaign (TSC) which was later renamed as Nirmal Bharat Abhiyan (NBA) on April 1, 2012. The Prime Minister launched the Swachh Bharat Mission (SBM) to eradicate open defecation among others by 2019 thus restructuring the Nirmal Bharat Abhiyan.
But something seems to be missing down the lane. Owing to my official, personal and family obligations, I have had to visit some circles of my district, go to other districts and some of the neighboring states in the recent past. No doubt the parameters have been set and endeavors are being made to realize the dream of Bapu for a clean and hygienic India. But enacting the essence of Swachh Bharat Abhiyan in its literal sense would not suffice.
If at all the dream of a clean India is to be realized in its full essence, we need to do away with the robotic attitude and treating it as ceremonial. What would make and bring about a sea change, is the change in our outlook and attitude. We need to change the way we look at things. We need to be more responsible. Get inspired and inspire others. As this is a people's movement and if we imbibe Modi's 'Na gandagi karenge, Na karne denge' dictum, we need not linger on, for the year 2019 to realize the dream of a clean and hygienic India.
All said and done, I am appreciative of the departments and agencies especially the district administration and the DUDA for creating awareness and holistically implementing the national movement twice a month in the district headquarters Bomdila.