Arunachal
SUMAA- EKD shows solidarity to Late Toko Yame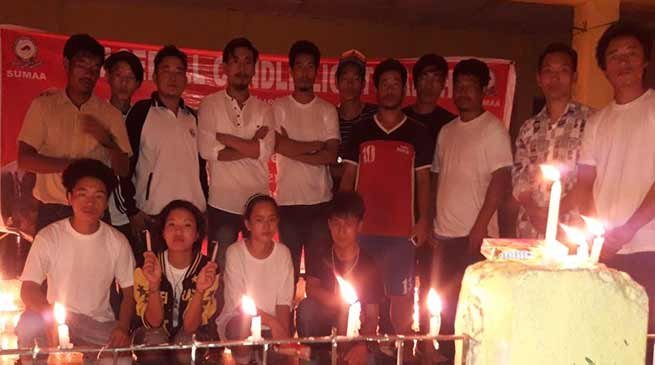 Seppa 
The students United Movement of all Arunachal -East Kameg District SUMAA-EKD showing its full solidarity to the deceased Lt.Toko Yame (student) who was found dead at Tawang in between the clashes within two schools.
SUMAA-EKD President Silley Taniang Flago, held a meeting with the Deputy Commissioner and Superintendent to inform about the concern of the youths and people of the district and appeal then to inform the Tawang counterpart about the demand of the people for far investigation into the case.
On September 30 the Students' United Movement of All Arunachal -East Kameng District (SUMAA-EKD) took out a candle light peace rally in solidarity to the victims family and for eternal peace of the late deceased. The folks from every corner of east Kameng especially the youths and students hundreds in numbers hold candle for eternal peace .
The Father of the deceased Koya Yame also participated in the rally, where he questioned the role of Police officer on duty and who is investigating the matter, he spoke about the immediate circulation of postmortem report to be made in public domain and in a grieved tone ask the present arrested person to be convict soon without playing delayed justice.
Silley Taniang Flago while addressing the gathering asked the Govt. on behalf of the Lt. fellow brother Toko Yame and the family asked Capital Punishment to the apprehended accused without giving any communal colour.
Criminal do not hold caste and religion and they should be punished as per law. They should be prosecuted without fear in any pressure. They also demanded investigation through CBI.
The SUMAA- EKD led the thousand mass for a two minutes silence for peace soul of the departed one.