National
Sulabh International agrees to collaborate with Arunachal Govt for the project of "hygienic toilets for all households in the state"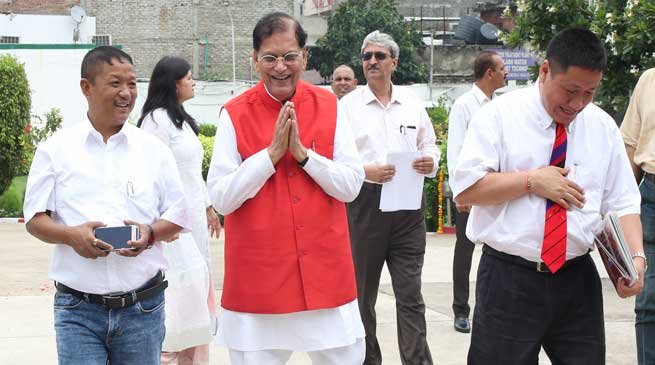 New Delhi
Sulabh International, the reputed NGO has agreed to collaborate with Arunachal Government in its ambitious project of "hygienic toilets for all households in the state".
PHE & WS, Minister Bamang Felix along with Robin Hibu, IGP, visited  Sulabh International Centre at Dwarka Mahavir Enclave, New Delhi today where world first toilets museum, innovative successful project of turning the crowded dirty public toilets into clean environment biomass, drinking water into water ATM etc. are being successfully run by the NGO.
Dr Bindeswar Pathak (Bapu), founder of the Sulabh International appreciated Government of Arunachal's  interest for clean and hygienic toilets for Arunachal. He informed that the team of Sulabh International with the help of HELPING HANDS – an NGO, conducted a detail survey of Hong village in Ziro which is considered to be the largest village of Asia and also presumed to be the dirtiest one so that it is transformed. "Survey part is in the final stage after which we shall start our cleanliness stint with construction of international standard toilets" informed Pathak.
Speaking on the occasion, Felix expressed deep gratitude to Sulabh International for choosing Hong village as pilot project for their maiden initiative in Arunachal. Amazed by the innovative approach adopted by Sulabh International, the Minister assured collaboration with all existing schemes for rural sanitation in Arunachal with Sulabh International. He further requested Sulabh to start phase wise cleaning of the unhygienic villages( by building international standard toilets for poor villagers under CSR schemes ) in Arunachal under their initiative of Sulabh International reach out programme for vulnerable and poor villagers.
Felix also sought Sulabh International's expertise support in the form of periodical training to Sanitary officials of the state government  so that they could make good use of their knowledge in making Arunachal Open Defecation Free state at the earliest. "I am confident that Sulabh International will transform Hong village from its dirtiest tag to the cleanest village and create a bench mark for future expansion in the field of toilets for all endeavours" Felix assertively said.
PHE & WS Minister appreciated the efforts of NGO HELPING HANDS  in taking up the much required "clean Hong village project" in collaboration of Sulabh International and said that their initiatives will be remembered by the people of Arunachal Pradesh for a long time.