Arunachal
Subansiri Lower Dam is importance for both state and country- Khandu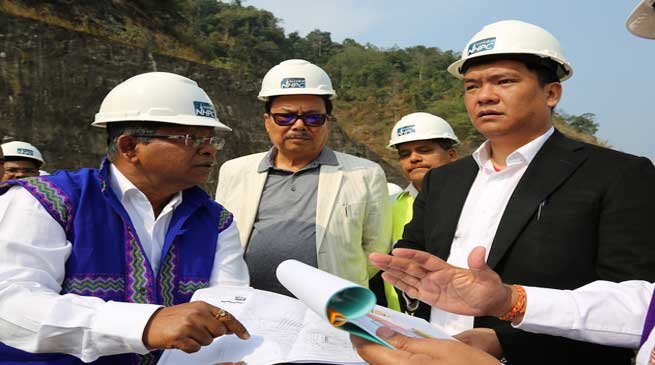 Dollongmukh 
Chief Minister Pema Khandu today said that the "NHPC's Subansiri Lower Dam is of importance not only at the local level, but to the state and the country,".  He also said that the state government will soon work to sort out the problems on the implementation of the stalled 2000MW Subansiri Lower Hydro Electric Project.
He made this assurance following a site inspection at the dam site to a group of NHPC officials in a meeting today. The Chief Minister said he will have talks with Union Power Minister, Piyush Goyal and his Assam counterpart, Sarbananda Sonowal for an early solution.
Finding a solution to the Subansiri Lower dam is highly important as the state government is losing to the tune of Rs 1.20 crore everyday, an amount that could have been accrued from the 12% free power share, said Khandu..
He stressed that all the concerns and matters that are proving as stumbling block to the project, needs urgent attention and addressed immediately.
He said that had the dam been commissioned on time, the state could have reaped the benefits in terms of employment, contractual works and tourism promotion.
Khandu even stressed that no Chief Minister in Arunachal can take the state ahead, if hydropower potential of the state is not optimally used.
Executive Director of Subansiri HEP project, Rakesh explained to the visiting delegates about the project status and its implementation.
The project was forced to suspend its construction activities in December 2011, following protests from few of the stakeholders and pressure groups. The project with its initial cost estimate at Rs 6285 crore began its construction in 2005. However, due to the delay the revised cost estimate has jumped to Rs 17,435 crore as of today.
The NHPC official informed that till date 55% of works have been completed and the construction works are at standstill with only routine preservation and maintenance works being carried out.
Due to the halt in the construction activities, the official informed that the company is losing Rs 10 crore every day, being incurred in maintenance works and other activities. Till date, the project has incurred Rs 9000 crore as expenditure, added the official.
Earlier, the Chief Minister and his team visited the water intake site, followed by a 1.5 km drive inside the surge tunnel. The team made a brief halt inside the tunnel where the NHPC officials briefed them about the layout of the 8 surge tunnels. The visit ended at the dam site viewpoint followed by a brief meeting.
Deputy Chief Minister Chowna Mein, Industries Minister Tamiyo Taga, Health Minister Jomde Kena, PHED Minister Bamang Felix, Transport and Supply Parliamentary Secretary Likha Saaya, Raga MLA Tamar Murtem, and Ziro MLA Tage Taki accompanied the Chief Minister during the visit.