Itanagar
Speech Of Chief Minister Pema Khandu on the Occasion of 31st Statehood Day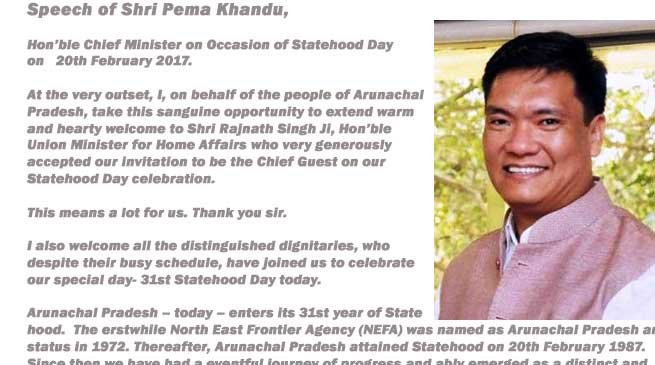 Itanagar
At the very outset, I, on behalf of the people of Arunachal Pradesh, take this sanguine opportunity to extend warm and hearty welcome  Shri Rajnath Singh Ji, Hon'ble Union Minister for Home Affairs who very generously accepted our invitation to be the Chief Guest on our Statehood Day celebration. This means a lot for us. Thank you sir.
I also welcome all the distinguished dignitaries, who despite their busy schedule, have joined us to celebrate our special day- 31st Statehood Day today.
Arunachal Pradesh – today – enters its 31st year of Statehood.  The erstwhile North East Frontier Agency (NEFA) was named as Arunachal Pradesh and granted Union Territory (UT) status in 1972. Thereafter, Arunachal Pradesh attained Statehood on 20th February 1987.  Since then we have had a eventful journey of progress and ably emerged as a distinct and determined State, rubbing shoulders with our peers with pride.
On this momentous occasion, let us remember our first generation leaders who have contributed immensely in shaping the State of Arunachal Pradesh.
These leaders along with the administrators sowed a seed and nurtured with lots of hope to see Arunachal Pradesh as an island of peace, unity in diversity and march towards progress- at a pace which ensured CHANGE WITH CONTINUITY.
I also take this opportunity to salute our valiant jawans from the armed forces, state police, para-military forces for their self less service to the State.
The contribution of each and every citizen of state during the transitional phase of Arunachal's evolution to the present state, needs special mention. I greet all my fellow Arunachalees and extend my heartiest greetings!
My dear elders, brothers and sisters.
As we celebrate completion of 3 decades of Statehood and enter into the 31st year today, I would like to take this opportunity to share some of my thoughts on this day.
Every Society- State- Nation must be receptive to the changing times and accordingly prepare to take on the challenges and opportunities that come with change.
While doing so, it is important that utmost care has to be taken that the core values, which identify us as a society- state or nation, must be protected under all circumstances.
Today, when the world is global village, we must as a society adapt and change our outlook and mindset. This is the only way Arunachal Pradesh can find our rightful place in the nation and the world.
Our Government is taking concrete and very sincere steps to make the state a conglomeration of societies where meritocracy, hard work and talent are respected and rewarded.
Many structural changes are already done and many are on the anvil. These steps will usher in hope amongst the youth and encourage them to work hard to achieve the place they deserve in the society.
Nepotism, opaque administration and disregard to rule of law will be the thing of the past.
Vested groups will resist these reforms and propagandist will go all out and try to be obstacles in our Government's vision to TRANSFORM ARUNACHAL.
Vigilant citizens, civil societies and heads of communities must come out and thwart such designs of the vested interest.
History teaches us that only those societies survive and compete with the rest of the world, where meritocracy, hard work and talent have been given primacy over nepotism, parochial and narrow momentary gains.
We as a state must take a pledge that we aspire to be one such state on this solemn occasion. Our Government has and will display the political will to do so.
Having said so, those disadvantaged for various reasons will have a government which will handhold and nurture them to come at par.
The potential of our State and talent of our citizens have been talked on several occasions, yet thus far, we have not been able to capitalise on these two valuable assets that we as a State own. It is time we ACT.
I have identified themes on which our Government will endeavour to make the lives of every Arunachalee better in the days to come. They are;
Good Governance;
Arunachal Pradesh as the Organic Hub and Fruit bowl of India;
Arunachal Pradesh as the centre for wellness, Spiritual and Adventure Tourism;
 Employment generation and Skill Development;
 Health and Education- quality access to all;
 Infrastructures like road, air and rail connectivity &
Arunachal Pradesh as centre for higher learning and research.
Group of Secretaries (GOS) have been formed to ideate and suggest the Govt on how these themes are to be translated into policies.
Further, the suggestions of all Communities through their organisations (CBOs) have also been sought. I am very thankful to all them for their valuable suggestions. Through social media too, I have solicited ideas and suggestions from the citizens. Overwhelming response shows the enthusiasm of our citizens to partner the Govt in our growth story. Some very innovative and good suggestions have also been received.
In effect, the point I am trying to make is that each one of us have a strong desire to progress, develop and live in a transformed Arunachal. As a Govt, it is our duty to provide an climate and environment to enable this transformation.
 This is and will be the sincere effort of our Government.
Taking advantage of the occasion, I would like to highlight some of the initiatives undertaken by our Government to provide better life to the people and ensure a better future for them.
We have given a holistic approach towards all  the Flagship Programmes initiated by our beloved Prime Minister Shri Narendra Modi ji. The landmark and very bold decision of demonetisation with the prime intention to kill the menace of black money on the nation's economy, curb corruption amongst all sections of the society, neutralise terror funding and attack the dangers associated with fake currencies in circulation in the economy has been an enormous success. Let me reiterate that the entire nation is behind our beloved Prime Minister. We must promote all modes of digital transactions. I hope all the banks, GOI representatives will educate all the visitors and encourage them to go cashless.
I appeal to all my fellow citizens to adopt, adapt and accept the future-digital transaction. As patriots let us join this national movement to end corruption and end black money so that we ensure ourselves a transparent and accountable environment.
You all will appreciate that the State Government has initiated number of projects in Information Technology sector. We have recently converted our Cabinet into e-cabinet while process on making paperless governance is in full swing. In the days to come, we are confident that entire Government correspondences will be paperless which automatically will curb corruption and give people, transparent and accountable governance.
Prime Minister's Swacch Bharat Abhiyan and Skill India campaigns have a visible impact in the state. We have asked each of our MLAs to personally monitor these two very important programmes of Hon'ble Prime Minister to make it a grand success. We have also set the targets of making Arunachal Pradesh an Open Defacation Free State by 2018 and provide drinking water to all by 2020.
Despite financial constraints, our government could implement the Seventh Pay Commission for the State Govermment employees. We have also accorded top priority to the social sectors like education and health and all possible measures are being taken to augment these two prime sectors.
Our Government believes in inclusive development and therefore has ensured on equal distribution of development fund to each and every constituency of the state. Surface, Air, Rail and Telecom connectivity will get major leap with the continuos support of Union Government. I on behalf of the people of Arunachal Pradesh extend our heartiest gratitude to Hon'ble Prime Minister and his council of Ministers for showering us with number of projects in these sector. While around 1500 Crores has been sanctioned for 119 new PMGSY projects, Shri Nitin Gadkari, Hon'ble Union Minister for Road, Transport and Highways during his recent visit to the state has announced road project of almost 50000 crores. With the deck cleared for operationalisation of commercial fixed wing aircraft in the already completed ALGs in the state and new rail links to connect the eastern part of our state, connectivity issues would be addressed to a great extent.
As I said earlier, our state has potentials in abundance. In order to tap this potentials for economic growth, the State Government signed MOUs with CII to promote and project Arunachal as the preferred investment destination and to to attract investments and build capacities within the State. We also entered MoUs with National Diary Development Board to bring in white revolution in the state. In the days to come, we can expect major economic activities in these sectors which will also open up employment avenues for our youths.
In order to strengthen the governance and provide government employment to aspirants, we recently created more than 500 posts in various categories. We will also fill up 2400 posts of Police personnel in this year.
The State Government has also decided to conduct the recruitment of all Group B (non gazetted),  Group C and other ministerial posts through APPSC by ammending the Arunachal Pradesh Public Service Commission (Limitation of functions) Regulations, 1988 for instilling transparency in the whole process of recruitment and ensuring a merit based recruitment process.
Last but not the least, taking the opportunity of Shri Rajnath Singh ji's benign presence here today with us, I would like impress upon him to have a positive outlook to few of our demands pending with the Ministry of Home Affairs, Government of India.
Special programme on Border area development
Security Related Expenditure (SRE) scheme
State of the art Police Training Academy
 CCTV surveillance system in the Capital Complex covering the twin cities of Itanagar and Naharlagun upto Hollongi and Banderdewa Check Gates on either side.
Up gradation of 20 Police stations in Tirap, Changlang and Longding
Special package for Tirap, Changlang and Longding
ITBP Headquarters at Itanagar
The State Government is committed to put Arunachal Pradesh in an unprecedented growth trajectory and for this we need cooperation, support and guidance from the Government of India. I am sure under the dynamic leadership of Hon'ble Prime Minister Narendra Modi ji and Shri Rajnath Singh ji, Hon'ble Home Minister, Arunachal Pradesh will soon become self-reliant and a contributor in emergence of India as a world leader in all sectors.
Jai Hind, Jai Arunachal
( from the office of Chief Minister )