National
Siachen survivor Lance Naik Hanumanthappa passes away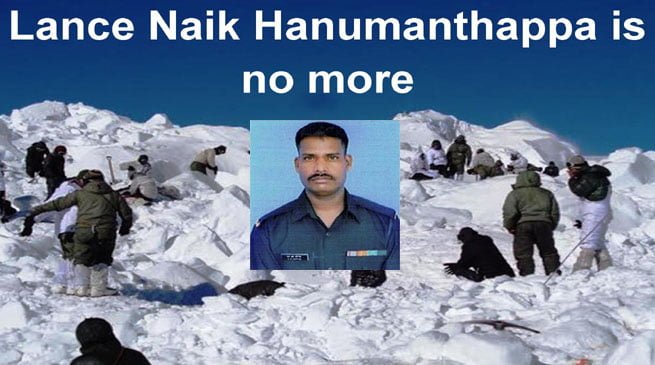 New Delhi
Siachen Survivor Lance Naik Hanamanthappa, who was battling for his life at the Army's Research & Referral hospital in New Delhi, passes away  on Thursday morning. This was officially stated by the Army authorities.
Lance Naik Hanamanthappa was admitted at the hospital on Tuesday morning and was on ventilator since. His condition steadily deteriorated due to multiple organ failure. The soldier of 19 Madras Regiment was rescued alive on Monday night after being buried under 35 feet of snow for six days. He was flown to Delhi on Tuesday in an Air Force aircraft. The avalanche had buried their camp on February 3.
Lance Naik Hanamanthappa, who is survived by his wife and two-year-old daughter, belonged to a farming family in Betadur village, Kundagol taluk, Dharwad district, Karnataka. The youngest in the family, Lance Naik Hanamanthappa always wanted to join the Army. He came up the hard way, attending the high school at Aralikatti village by walking 6 km every day. And, despite being rejected thrice in the Army recruitment rallies at Belagavi, Dharwad and Gadag, he kept on trying and finally managed to get into the 19 Madras Regiment 14 years ago.
Reacting to the death, Prime Minister Narendra Modi  said, "He leaves us sad and devastated…The soldier in you remains immortal."
Rahul Gandhi said, "His extraordinary spirit and tenacity, till the very end, is an inspiration for all. My thoughts and prayers are with his bereaved family.
Congress President Sonia Gandhi also expressed deep shock and profound grief over the death of Koppad. "During his life, the braveheart son of India united the entire nation in praying for him and has every citizen grieving for him today," she said.