Arunachal
Shortages of teaching staff in Govt Schools would be full fill very soon-pul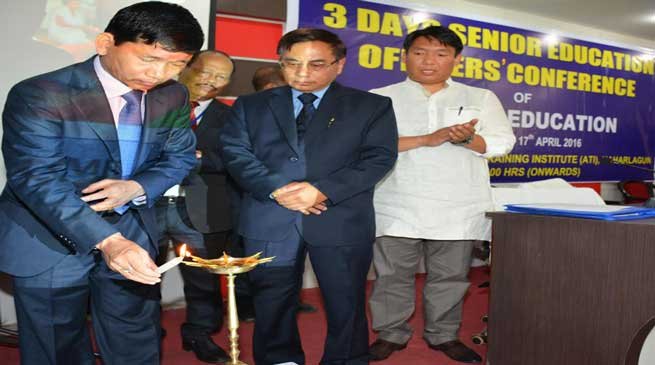 Itanagar
Chief Minister Kalikho Pul announced that shortages Teaching Staffs including of principals, headmasters and subject teachers would be met soon in all the state government-run schools. He said this while inaugurating the 3-day annual conference of senior education officers here at Administrative Training Centre (ATI), Naharlagun today.
The CM said the schools would also have music teachers, PT teachers including games and sports teachers till secondary level emphasising on all round development of the students and opening up of more avenues for the students to explore.
He also announced to provide schools with computer and VSAT facilities for internet connectivity. In bigger institutes like universities, colleges and high schools, CCTVs would be installed in all strategic locations inside the campus for safety and security.
The CM said the state has huge hidden talent but lack of opportunity is diminishing their opportunity for growth, which the state government now wants to provide them with a proper platform.
On issuance of monthly salaries for SSA teachers, contractual employee and contingency staffs of education department, the CM informed that it would be released on monthly basis and asked the departmental authorities to ensure it.
He assured to provide DDSEs with new vehicles saying that in districts their work requires frequent travelling for regular inspection of schools. He asked them to condemn and dispose the old and unserviceable vehicle as per the laid down procedure.
The CM instructed the minister, secretary, directors and DDSEs to make regular surprise visits to schools to get firsthand account of the ground realities.
The CM expressed happiness that he is proud to have highly qualified, dedicated, sincere and hardworking person, Wangling Lowangdong as the Education Minister. He also expressed confidence on Education Parliamentary Secretary, Tsering Tashi that with his energetic and innovative ideas, he would bring change and development in the education sector.
Also to rationalise the deployment of teachers in government schools, the CM sought public suggestions and response to the state government's proposal to privatise government-run schools in urban areas.
Further to rationalise, he asked the department to work out requirement of teachers in each district on the basis of school's necessity and instructed the department to issue a notification in this regard.
To ensure that no schools suffer on account of remoteness or due to political affiliations of the area, the CM sought to maintain uniformity of facilities to be provided in all schools.
Wanglin Lowangdong, Minister of Education in his address to the senior officers of education department appealed them to recommit themselves to make Arunachal an educational hub. Since education system is triangular in nature, he called upon the teachers, parents and the community to come together to improve the education system in our state. He urged them to take care of the children and student following their orientation, commitment to study and desire to bring good result.
He further appealed to make best use of available resources in various flagship programme and sought for their proper implementation.
The minister strongly said that he wants DDSEs to perform and cautioned that their performance will be judged on the basis of this year's CBSE result of Class X and XII.
Tsering Tashi, Parliamentary Secretary for Education said education is the most important subject for any country. Index of National progress, human empowerment and social upliftment depends on education scenario.