North East
Serishpore Tea Estate on way to becoming illicit liquor free Estate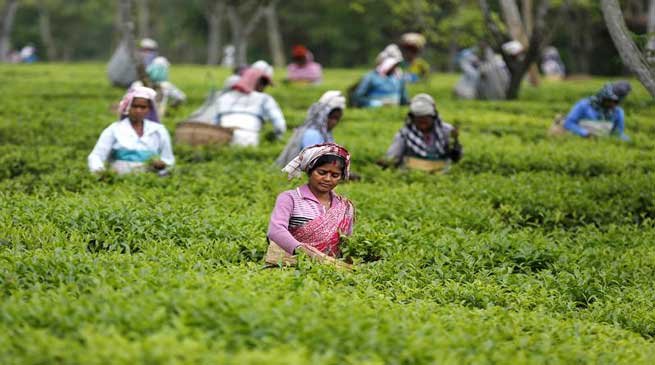 Hailakandi
By Sabir Nishat
Serishpore Tea Estate in Hailakandi district is well on its way to becoming the first illicit distilled liquor free tea garden, thanks to the slew of initiatives taken by the District Excise Department headed by Superintendent M. Amarendra Nath.
A team of Excise Department headed by Nath held a series of meetings with the tea garden workers of Serishpore tea estate on the hazardous effects of spurious alcohol and other intoxicants and asked them to give up the bad habit for their own good as well as for their families.
Nath and his team took pains to explain to them the debilitating effects of spurious liquor and how keeping away from it will help them to keep diseases at bay and enable them to raise production and make a steady flow of income. "Detoxifying the lives of the tea garden workers hooked to addiction is not an easy task altogether given the fact that there is not much by way of entertainment in the gardens. Merry making quintessentially means indulging in boozing of the free flowing, locally brewed cheap or spurious liquor," he said.
The Excise team made the scores of garden labourers understand how alcohol takes a toll on their health, make them sick and force them to remain absent from work, further draining their earning power.
Nath's main focus of his campaign is to target the vulnerable section especially the drop-outs who are suspectible to hitting the bottle with a vengeance.  "Our strategy is to deal with the serious issue of the tea garden youth getting hooked to addiction, especially the school drop-outs. We are trying to wean them away from alcohol by spreading awareness on the ill effects of drinking," he added.
"I am feeling happy that more and more labourers are realising the adverse effects of illicit alcohol and vowing not to fall prey to it come what may. Our work is positively impacting the tea garden community of Serishpore is a reward in itself," he quipped.
The positive outcome is that the addicted workers have now intensified the drive to curb the illegal sale and production of spurious liquor. "It's good to see that the addicted ones have not only expressed their wish to return to normal life by getting integrated into the mainstream but also to help reform other members to give up alcohol," said Nath, adding, "More than cracking the whip on the illicit brew, a workers' movement is a potent tool to uproot addiction. If the workers themselves keep a hawk-eye vigil on illicit activities, then the battle against alcohol is won before it is waged. "
Nath, who is on a mission, is now eyeing Koyah tea estate and making it free from illicit liquor. And the success he has attained will undoubtedly make his task much easier.
It may be mentioned that Hailakandi district has 17 tea gardens with a total workforce