Arunachal
Seppa- Nyokum Yullo festival celebrated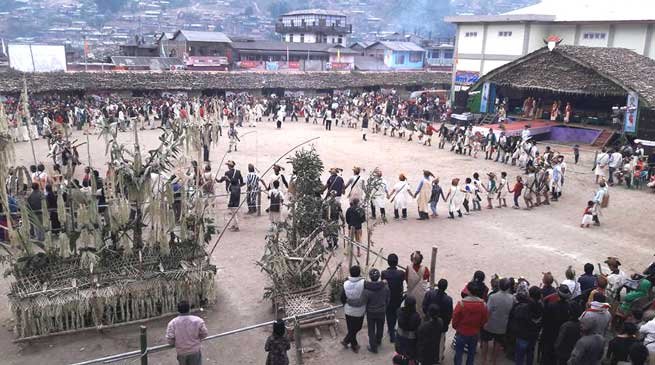 Seppa
With much pomp and gaiety, Nyokum Yullo festival was celebrated at various places of East Kameng district. Attending the celebration on Sunday  here at Nyokum Ground, Seppa, Parliamentary Secretary Tapuk Taku (Tax & Excise) exhorted the people to preserve and promote traditional culture including local language for posterity.
He further urged the elders to teach and guide the youth to understand the true value of their own culture and tradition and encourage them to preserve its rich ethos for keeping the identity intact.With jubilant mood, Taku appreciated and pronounced that the Hon'ble DyCM Chowna Mein has assured to provide necessary assistance for early re-construction and widening of a bridge over Macha Nallah, which is a main lifeline connecting the Seppa Township with the rest of the world.
Acknowledging the unity and brotherhood of Nyishi tribe, East Kameng DC Rajeev Takuk stated that it is indeed a moment of proud and joy that the Nyokum Yullo festival has been celebrated smoothly, albeit with much fanfare each succeeding year for the last half a century and which in itself displays the progressive mental capacity of the people of the community. He further urged them to continue the practices with same zeal and enthusiasm in preserving the rich cultural tradition of the community.
Appealing to stay away from bad and immoral habits, Takuk exhorted the people to exhibit and maintain conducive and hospitable environment in order to attract more and more tourists to promote rich and age-old cultural heritage of the community to outside world. Urging further, he requested everyone to maintain peace and enjoy the celebration joyously without disturbing the festive mood.
Wishing the people on the auspicious occasion, East Kameng SP Tanam Konia elaborated about the importance of preservation of one's own cultural tradition which is shared way of living passed down from generation to generation for keeping one's identity well-preserved. He also made an appeal to all to maintain peace and harmony for promoting unity amongst the tribes of the State.
Taking the opportunity, Chairman (NYCC Seppa-2017) cum EE (PHE&WSD) Er. Bharat Sonam wishes and simultaneously, elaborated on best sanitation practices and urged everyone to cooperate and support for making the district an ODF district.
People and children from different walks of life were present in traditional attires and witnessed the grand celebration. Cultural dances and songs were the highlights of the day. EE (WRD) Er. Pai Dawe and General Secretary (NYCC Seppa-2017) Tara Kamchi also spoke in the occasion.Various cultural competitions and sporting events were organized during the festival beginning in advance the fortnight last.