North East
Seemanta Chetana Mancha Purvottar- Chintan Baithak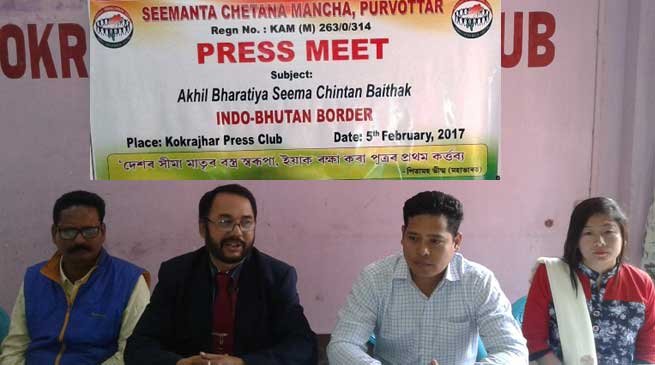 Kokrajhar
A Akhil Bharatiya Seema Chintan Baithak of workers of Seemanta Chetana Mancha, working in the Idno-Bhutan international border area will be held at Kokrajhar with two days programme on 8 and 9 February.
Hosted by  Seemanta Chetana Mancha: Purvottar, Assam  with active support from BTC administration, representatives from the four states bordering Bhutan including all the four districts of BTAD are joining the convention.
Assam governor Banwarilal Purohit will attend the inaugural function as chief guest along with BTC chief hagrama Mohilar as guest of hinour while Ullash kulkarni, Khetriya Pracharak, RSS is the appointed speaker.
On the concluding day, Assam minister Ranjit Dutta, BTC deputy chief Kampa Borgoyary, MLA Chandan Brahma will grace the programme. National convenor of Seemanta chetana Mancha Gopalkrishna and coordinator Pradeepan and Murli will also participate in the programme.
Talking to Reporters at Kokrajhar Press Club today, The Mancha president Dr Kamala Kanta Sahoria said the  Seemanta Chetana Mancha: Purvottar, Assam  has been working on three major guiding objectives like-help protecting  the international borders, making general people aware of issues relating to international borders and assist in implementing all development programmes in such areas.
He said the Seemanta Chetana Mancha believes that international border are to be the asset for both the countries so that harmoniously and amicably both the countries can march together for higher achievements of progress.
He said the "chintan baithak" has been organized in order to assist in making the relation in such and to establish a sustainable platform founded on values of brotherhood, understanding, peace, nationalism and patriotism.
India share 699 km border with Bhutan of which 267 km is with Assam, 217 km with Arunachal Pradesh, 183 with West Bengal and 32 km with Sikkim.