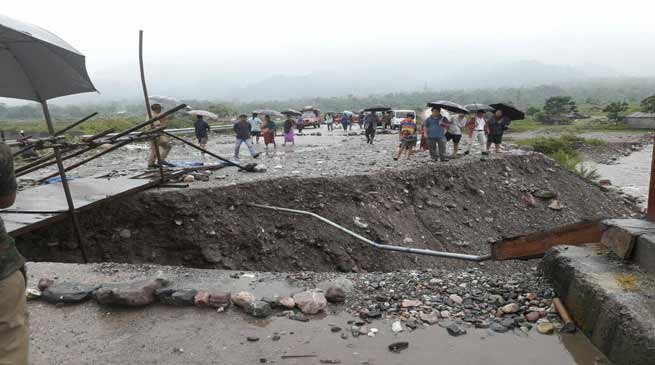 Itanagar
Once again road communication in several parts of Arunachal Pradesh has been disrupted in the second wave of flood and landslides triggered by heavy rains since the last couple of days.
Incessant rain also triggered landslides in several parts of the state. Anjaw district remained cut off from rest of the state after several stretches on Tezu-Hawai road was hit by landslides in the last two days severely hampering connectivity of the border district.
As per the Extra Assistant Commissioner, Diyun  Sabadam Tayang Noa Dehing river has been creating havoc and bringing miseries to the people living in two village of Dumpani and Udaipur village under Diyun circle since 8th august last. The brush wood dam constructed with the voluntary support from the villagers to stop flow of water from Noa Dehing river into the village, has been wash away due to erosion on 12th August and only the earthen embankment is left. Many houses have been destroyed and 30 percent of this village are submerged in water, he added. Relief camps have been set up in both the villages and local administration is providing ration items to the flood victim and providing necessary assistance
The bailey bridge over Eze river collapsed Thursday evening disconnecting the Hunli-Desali block in Dibang Valley district from the rest of the country
Namsai district is the worst hit district as all low lying areas in it have been submerged by flood waters of Noa Dihing and Lohit rivers along with their tributaries, which are all in high spate. Around 300 families were affected in the second wave of flood while six villages under Lekang circle namely Rongali Beel, Raja Beel, Dirak Miri, Lekang Gohain, Nongtaw Khampti and Mokrun were badly affected. "Around 2000 hectares of agriculture land are being inundated by flood water,"
Road  communication between Banderdewa and Itanagar has been affected after a portion of the NH-415 near Karsingsa eroded on Friday.
However, the administration has diverted the traffic from Banderdewa to Nirjuli via Harmuti-Doimukh road, an official report said.
Incessant rain also triggered landslides at two different points on the Koyu-Kora stretch in East Siang district cutting off Koyu circle from rest of the state. Flash flood also hit Silluk village under Mebo circle of East Siang district. The Siku Bridge which connects Pasighat with Roing has also been reportedly washed away by the flood, the report
Flood situation is grim in Lohit  district with all the rivers like Lohit River, Sukha Nallah, DuraNallah, Tezu Nallah, Dening Nallah, Drum Nallah etc flowing above danger level. Miju village in Tafragam, Changliang, Danglat, 27 Mile etc. have been affected. As per report 11 persons were successfully evacuated from Lohit River near Danglat, backside of ITBP Camp, Tezu.
Due to heavy incessant rainfall in the region from last few days, the turbulent Siku and Sirum river in between Ayeng and Mebo washed away portion of approach road toward Siku bridge along NH-13 (formerly NH-52) while cutting off Mebo Sub-Division and entire Eastern Arunachal from Pasighat and rest of the world.