Arunachal
SDSU demand immediate interview result cancellation, threatened for movement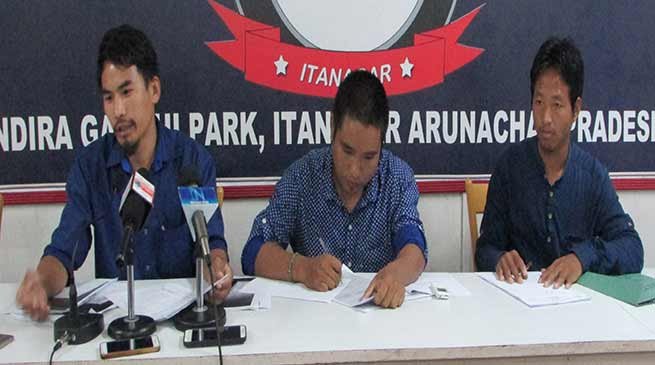 Itanagar
Siang District Students Union (SDSU) today demanded immediate cancellation of interview result conducted on August 19 last while result announced on 29th  or threatened democratic movement which starts from September 8.
Addressing the press conference here at Arunachal Press club today  SDSU Assistant General Secretary (Admin) Tamar Tachung said that interview conducted by the district administration on August 19 last and the result for which was to be announced on August 29th and the other examination like Computer test was to be held on 30th and 31st last for which the students union meet DC Siang Rahul Singh on August 25 for reconsideration of second examination ie, computer test but the DC was reluctant to listen and misbehaved them and their genuine play was not considered.
Accordingly a complaint against DC Rahul Singh by the President SDSU Tagu Mibang was made to the Pangin Police Station on same day which is yet to registered.
Tachung said that there were more than 6000 candidates for LDC/UDC/MTS who could would not able to attend the second examination and subsequently after the announcement of examination result on 29th August. The administration should give sufficient time or a minimum time of a week and examination conducted and result of the interview was announced wherein many candidates did not turned up.
He said that the we  have made complain and informed about the incident to the Chief Secretary on September 4th but no action have been initiated so far.
He said that one candidate Rita Chetry who appeared for the interview was seen in evaluation committee of the paper of which the teachers of the HSS was engaged who complaint the matter to its parents organisation and the classes of the School was badly affected he lamented. Even few  question paper of the interview where the space of answer was to written and supposed to be submitted by candidate before leaving the interview was circulated in the social media which seems that there may be paper leakage and demanded through investigation into the case.
The union have also submitted a memorandum to DC Siang on September 5 for cancellation of declaration of result. He said that the result is not at all expectable to the organisation and demanded immediate cancellation and conduct of fresh interview and a communication to this effect need to be issued by the administration latest by September or else the students union will launch democratic movement.
The DSU also demand immediate transfer of the present DC incumbent Rahul Singh and posting of a suitable replacement who can work for the all section of community and all round development of  district.