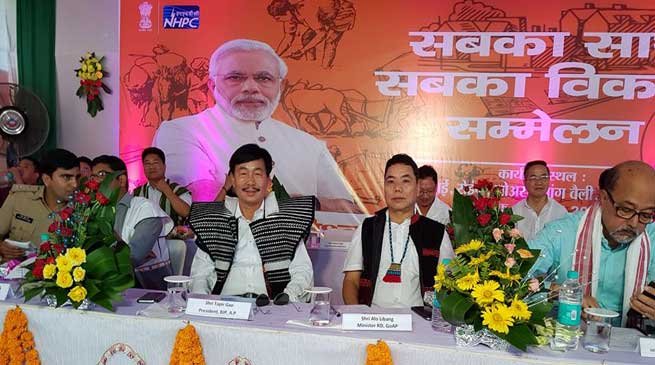 Roing
"Sabka Sath, Sabka Vikas" connected every citizen of the country, said the Arunachal State BJP President Tapir Gao.  He was addressing the public outreach programme of Government of India "Sabka Sath, Sabka Vikas" sammelan at Roing.
The closing ceremony of the event was organized in collaboration with NHPC Ltd Dibang Multipurpose Project, Lower Dibang Valley Roing.
Mr Gao said, everyone should take full participation for the development of the state in particular and Nation as a whole. He also briefed on some welfare schemes like old age pension, insurance scheme for every individual, LPG connection facilities for women at Rs 500/- under Ujala Yojna etc. He also spoke on tourism potentiality of the district and exhorted the people of Lower Dibang Valley to keep positive approach for development of this sector.
Alo Libang, Minister for Rural Development in his address called for transformation of work culture in every department to attain practical and tangible process in the developmental activities taking place in the state. He also briefed on various central schemes and achievements of the Government and further informed that Rs. 1, 30,000/- will be provided for construction of individual house under rural house hold schemes and additional Rs.8000/- will be provided for construction Toilet under SBM schemes.