Arunachal
RSS Launches Campaign for Bharat Ratna Award to the Dalai Lama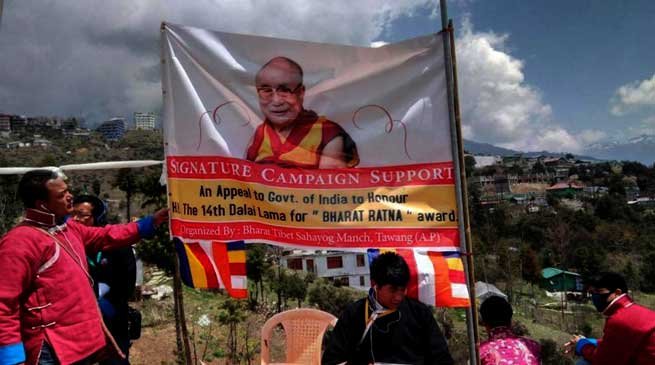 Tawang
Despite the protest by China, the Tibetan spiritual leader the Dalai Lama is continuing with his Arunachal Visit and according to his schedule he reached Tawang. One day before arriving in Tawang, the  Rashtriya Syawamsevak Sangh (RSS) has launched a campaign for awarding Bharat Ratna Award to Nobel Laureate and Tibetan spiritual leader the Dalai Lama.
The campaign was launched in West Kameng district of Arunachal Pradesh by district RSS leader Lhundup Chosang.
According to Chosang, the Sangh has so far collected some 5,000 signatures and they will submit their plea to Prime Minister Narendra Modi after getting 25,000 signatures.
Chosang Said that although the Bharat Ratna is different from the Nobel Peace Prize but the move will send the right message on the international stage.
Chosang decided this campaign after Dalai Lama's recent statement in which he said that he is a son of India and feels honoured to be the longest serving guest of this great country.
Chosang informed that an online campaign is also been going on, demanding the award for the Dalai Lama.