Arunachal
Roing- Khandu inspects Deopani Bridge over Eze River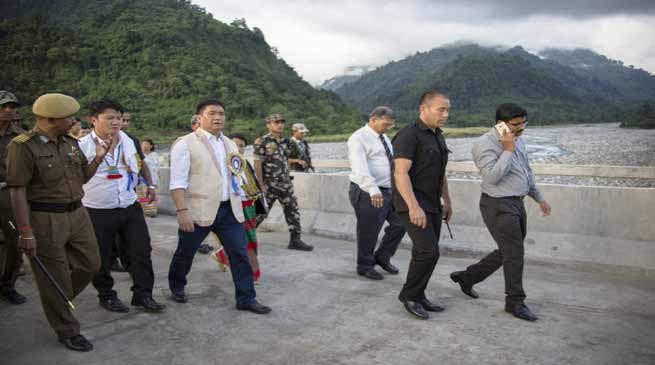 Roing
Chief Minister Pema Khandu today inspected the construction of 300 metre Deopani Bridge over Eze river accompanied by State BJP President Tapir Gao, Art & Culture Minister Dr Mohesh Chai, WRD Parliamentary Secretary Gum Tayeng, Roing MLA Mutchu Mithi and Hayuliang MLA Dasanglu Pul.
The bridge is being constructed by 752 BRTF under Project Udayak at 2 km point on Roing-Hunli road.
The BRTF officials warmly received the Chief Minister, which was followed by inspection of the bridge.
The Chief Minister in his interaction with the BRTF officials asked them to complete the project on time. He said the bridge is the lifeline for Dibang Valley district and upper areas of Lower Dibang Valley. He said its untimely completion had caused undue harassment to commuters.
The BRTF officials informed that the bridge was taken over from a private company in 2008, after which they have geared up the works. They assured that the bridge will be completed by 25th September this year, much ahead of the scheduled date of completion. Further they informed that concreting work will finish by 7th September, followed by load testing of the bridge on 15th September.
The Chief Minister also surveyed the flood situation in Eze river. Mithi informed the Chief Minister about the recurring flood in Eze, which poses grave danger to the entire Roing Township during rainy season.
The visit was also attended by Roing DC Deepak Shinde, Roing SP Sanjay Sain and 752 BRTF commander Kishore Kumar.