Arunachal
Roing- Deputy Commissioner Visits Hunli and Desali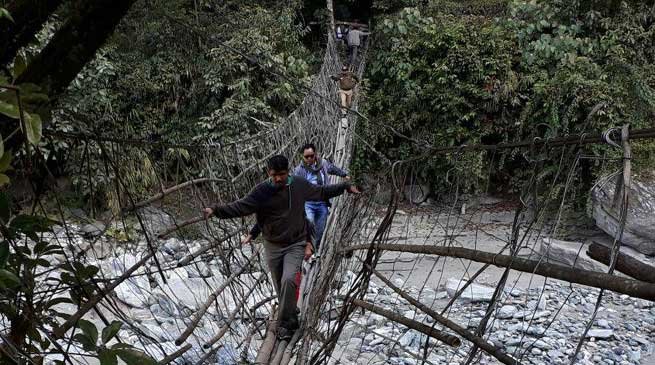 Roing
To get first hand information on developmental activities undertaken in the area, Roing Deputy Commissioner, Deepak Shinde visited Hunli sub- division and remote C.O circle, Desali. During his three days tour from 1st to 3rd December, he held public meeting at Hunli and Desali. He was accompanied by Smiti J. Umpo , SDO Hunli, PD DRDA, DPO, AE PHED,EE POWER,JE WRD and other officials from line department and public leaders.
Speaking in the Public meeting along with Hods at Hunli , DC sought cooperation from public leaders and Government officials for all round development of the area and cautions all absentee Government official that action like deduction of salary for absent period from duty followed by suspension will be initiated to habituate non station officer/ staffs posted in Hunli Sub- Division. He also requested general public of the area to facilitate and coordinate the Government official for smooth execution of developmental activities.   He brief on present system of executing various developmental works and directed the executing agencies to provide proper guidance to the contractor in every steps of implementation. Regarding illegal sale of liquor and other form drugs, he requested the public to be pro active and help the District administration and Tax & Excise department to curve the menace. He also urged for dissemination of information regarding demonetization and provides possible helps to the public living in remote areas of the district. Touching on road connectivity from Hunli to Desali, Electricity, water supply, PDS items, Shortage of staffs, Shortage of Police personal, DC assure to take up the matter to concern authority in consultation with SDO Hunli and other line departments. He also urged the public to use BADP schemes and other Govt. schemes judiciously for development of the area.
During the tour he also visited various Schools and Public health centre and took stock of Medicine and staff position at Hunli and Desali.
In the meeting, ZPM, Mama Miso, Gao Bura, PRI Leaders while stating their grievances they appreciated the DC and his team member for such noble gesture to know their problem at door step.
While responding to public grievances on various developmental issues, Shri T.Tado, PD DRDA, Aduk Paron, DFO, M.Dirchi, DPO, Moto Gara, E.E PWD and other Hods also clarifies their queries and urged them to report any discrepancies in implementation and execution of works undertaken in the area.