Entertainment
Rewati Chetri Shining at Miss International 2016 in Tokyo Japan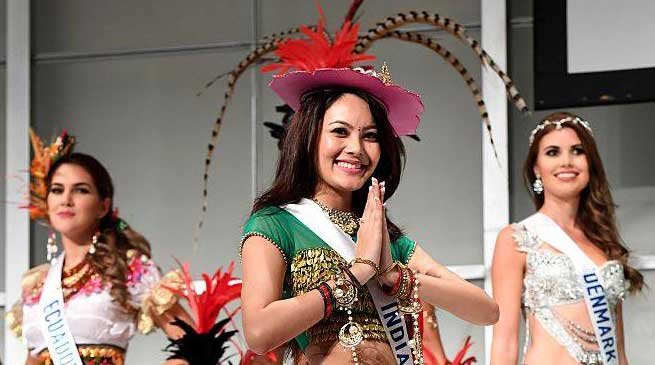 Guwahati
Miss International India 2016 'Gorkhali Gabhuru' Rewati Chetri India's face at Miss International 2016 in Tokyo Japan has been officially appointed as Visit Japan Ambassador by the Commissioner of Japan Tourism Agency, Ministry of Tourism, Land & Infrastructure and Transport of the Japanese Government.
Rewati Chetri had left for Tokyo on 9th October last and is now in the last leg of the mega event. With Just one day left for the mega grand finale Rewati Chetri has appealed the Indian subcontinent and fellow Indian to follow her in social media facebook ( https://www.facebook.com/RC.Kanchi/?fref=ts ) and instagram  https://www.instagram.com/rewati.chetri/ ) like comment and share her post so that she can grab eyeballs of the judges in social media.
 'This is my third pageant and I have always been elected as 'Miss Multimedia and Miss Popular' based on my popularity in social responsibility and it all due to my fellow Indians back home who have always prayed for my success and blessed me with likes, comments ans shares and inviting their friend list to like my page', said an elated Rewati from Tokyo today. She is connected with rest of the world through facebook live almost once in every 2 days from Japan and continuously updating her public profile which is now officially verified by facebook inc. She has qualified through several rounds in various activities held since 10th October and will comfortably make it into the centre stage at the grand finale of 56th Miss International beauty pageant.
Rewati Chetri's costumes for Miss International 2016 are mostly designed by North Easterner designer to begin with famous fashion designer Nandini Baruva of Kirameki who has shown her collections internationally. Few of her outfits are designed by young designer Jimmy Das – Guwahati , Sneha Gogoi- Mumbai  and her western outfit is designed by Tatyana – Dimapur Nagaland. The Khambu Kirati tribal outfit is designed by Hema Rai of Namchi Sikkim and is sponsored by Akhil Kirat Rai Sangh, Sikkim while the national wardrobe by INFID Pune. She is associated for this coveted pageant with Senorita India and Perk Events her official key sponsor, Mantraa Media as her Talent manager and PR agency, Kirameki – costume sponsor, Hotel Atithi – Hospitality sponsor and Kurls & Spykes as Pampering Partner.
Rewati recently met Miss International organization president Akemi Shimomura who is heading organizing committee of the coveted 56th Miss International pageant in Tokyo, Japan in an interaction program of leading entrepreneurs and later she was awarded the Visit Japan Tourism ambassador certificate to promote Japan Tourism. Rewati has thanked the media back home in media for the massive support and North eastern Indian print, electronic and online media for continuous support. She also mentioned about enthusiastic friends in whatsapp and various social media sharing about her and helping reach close to the crown. Ms. Chetri has been participating in all the activities pro actively as an Indian ambassador organized by the Miss International organization. Shri. Kulendra Daugaulaupu, Executive Member, Tourism of Dima Hasao Autonomous Council from where Rewati belongs has wished Rewati for the coveted crown and informed that the council has plans to felicitate her in a grand way so that small town girls are motivated to take up career in modeling, fashion and entertainment industry. Atul Chandrakant Kulkarni a northeast enthusiast based in Mumbai and Advisor to MoRTH and Indain Ports Association it is big achievement for a small town girl from a humble background to achieve such heights of success, the nation should not just be proud of her but also support through social media and bless her. Social media has roared requesting Government of Assam to extended financial support and mass felicitation like it had done for Debojit Saha and Anamika Choudhury and very recently Nahid Afrin all born out of television reality shows and other associate to promote Assam Tourism and other aspect of Assam nationally and globally like the Visit Japan Tourism campaign by Japanese Tourism Agency.