Itanagar
Resolution on Chakma-Hajong refugee approved by voice vote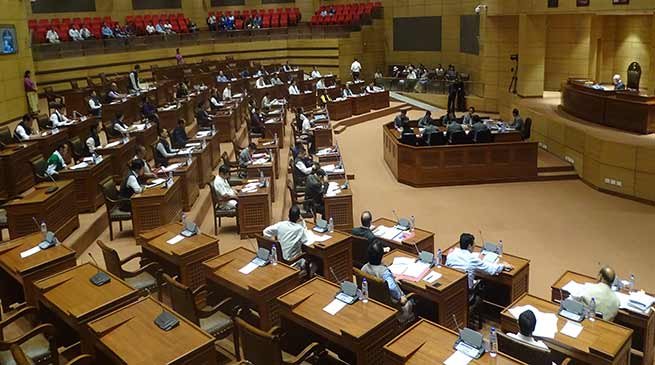 Time have come to finished the issue of Chakma-Hajong, if we continue to debate or else we may see only Chakma-Hajong issue in state which is like a cancer- Pema Khandu, chief minister , Arunachal Pradesh 
Itanagar
By Manoj Singh
Resolution on Chakma-Hajong issue was moved in a modified form of resolution in the assembly which was put to discussion and almost all the members of the house took part the resolution
" The house is opts to call upon the government of India to immediately take urgent steps and to protect the territorial and other consequential right to its tribal population as protected and guaranteed under the constitution of India and special laws and regulations which are imposed in the state if granting of  citizenship to chakmas-Hajongs is considered in compliance to any such directions or order  from any court of law or statuary body within the territory of India.
The house reiterates with unanimous view that the central government and state government with all its resources at its disposal person with full vigour and commitment including to dis hoarding to  legal remedies to see that rights and protection emanating from the constitution of India and the special laws and regulations guarantee to the indigenous people of the state are not diluted at any cost which may affect the social demographic, cultural economic fabric of unique tribal society".
Choukham MLA  C. T. Mein said that when chakma-Hajongs come to India in 1964 they were  less in numbers and now are around 65,000 and their quantum of population is higher in compare to the indigenous tribal people.
He refer an incident experience by one of his staff who was kidnapped by the Chakma and demanded of 50 lakhs. They settling permanently in the Reserve forest and no body go there even police scare and forest officials scare to go there.
Recently one merchant of Medo area was kidnapped and 8 lakhs were given, kidnapped pretending to the NSCN but when they were caught it was find that they were Chakma, those who killed ZPM was Chakma who come from Tripura. He suggested to verify the illegal Chakmas.
They were evicted four times after cutting of precious tree and clearing jungle and virgin lands in the name of cultivation. They are involved in criminal activities.
It is a great mistake of our government that their movement are not checked at any police station or check post, in some case we have documents of them but in case of Dayum we don't find any dossiers of there. He suggested to verify the illegal Chakma.
Tanga Byaling said that due to Chakma-Hajong some of our youths have lost their lives like Kipa Kache and others many lives have been spoiled by the police force and lathi. Why citizenship be given to them there will be problem of law and order and we need to protect our right and we should unite.
He also give his full support to CM in fight against Chakma-Hajong and requested not to have fear even it is contempt of court may be to all and he should not be alone.
They are outnumbers than the local indigenous and are involved in crime, though they are Buddhist but involved in crimes, they send through audio clipping in watsaap threatening etc which are insulting.
Byaling said that land belong to us how we will allow our land to give them,
Tesam Pongte said alerted the House to know about recent Rohangia illegal migrants and they are also using gateway and they may also target our state. we need to collect all Chakma-Hajong at a place so that no more land encroachment in state takes place.
Minister Nabam Rebia it is a sensitive issue, the students union have been fighting and said that entire house should salute three of our students martyrs for the cause.
During he as a MP he spoke for 18 minute and spoke about the threat by these refugees which may damage the demography of the state citing some report from General Sinha then governor of Assam.
The GoAP should have raised before their completion of thirty years, the then state government would have taken the matter seriously but the students union movement and leaders were treated as opposition earlier Rebia said.
We have no objection if citizenship given to them but not at the cost of our people and identity of our own people in our state as it is protected by several law which include ILP. Now time for us to implement inner Line permit strictly. Now time come for all political party and stakeholders and conscious citizens of state to rise above dirty politics.
Further Rebia appeal and said as an urgent movement for people to come together
Mebo MLA Lombo Tayeng said that ball is in the court of central government. He suggested to see that a SLP, CLP can be filed in court of law. Chakma-Hajong is  a misfortune for Arunachal Pradesh.
With regard to green field airport issue he said that hundreds of Chakma were enlisted as land owners list that was the mistake committed by our own people. The legal battle need to taken care by the CM otherwise our beautiful state is not converted into second Tripura.
Palin MLA Takam Pario during 1985 referring to AAPSU agitation one Kipa kache was killed in firing by CRPF in Kurung Kumey district.
In 5 decade of time under present government how they will be given citizenship is a subject to Government of India we need to take a decision for solution and opposing the citizenship grant to Chakma-Hajong.
Longding MLA Thangwang Wangham said that refugee was neglected by the government of Arunachal Pradesh and it was fitted with students and government was not serious and timely intervention was not done.
Chakma-Hajong is a threat for the state and nation their involved in wanton destruction of forest products, 6 cadres of Deprived People Forum arrested with sophisticate weapon in state, they killed officer of state and why NHRC is not protecting the indigenous people of state. He said that Every problem have a solution they must be registers through biometric system and given with refugees status like Tibetan refugees and if they are given by citizenship they should be deported as our state is bounded by several law and this is the view of the people of Arunachal Pradesh. Those undeserved people need to be deported from state after biometric registration.
Tage Taki said we need surgical strike now to protect ourselves. We may try for a curative petition but it seems that it is like a 'bandage on cancer'. He suggested to introduce ILP if citizenship is given to them by GOI. Their land need to be demarcated and for which a lease agreement need to be signed by GOI/MHA or rent to be paid.
Bomdila MLA Japu Deru said that 10799 Chakmas were settled through Assam and today it have grown to 65,875 as per official document. Referring to the peoples referendum Rally against Chakma-Hajong issue wherein leaders of all political party wherein political leaders from Assam and Sikkim attended. He suggested not take the issue easily now.
Borduria-Bogapani MLA Wangling Lowangdong said that , 4200 application have already been scrutinised out of 4700 application submitted so far which seems that the process for grant of citizenship have already been started. There is no certainty of Chakma population and wanted the exact static which seems there is a lacuna in us and wanted exact figure. He questioned how could the refugees given voting right which was a big blunder he observed. He wanted to change of word refugee and citizenship.
Minister Wanki lowing wanted that even if citizenship granted we can able to deport them outside state. if citizenship is granted to limited then we may deport the rest of them. Even if they are refugee they may be evicted from the encroachment area.
Former Chief Minister and Sagalee MLA Nabam Tuki wanted to go for a higher bench if state government try, the legal battle started from 1995, the NHRC first went to court to protect for rights of Chakmas. We should see how we can fight in court of law, we have challenging the order of 2015, we filed review petition and ask GOI to file and our petition was rejected.
Can state government move to higher court for protection of rights of indigenous people,  he wanted that we need to be united and heal together to find out an amicable solution of this cancerous disease.
If we do not take up the decision today tomorrow will be late and we may see their representation even in house as they have given voting right more than 1400 chakma-Hajong refugees. Originally settlers may be less but illegally migrants may be large which need to be checked.
Tuki said that Bordumsa-Dayum seat is a general and anyone can contest from there and if population increase, He said that so many laws and rules have been protecting us inspite of all laws Supreme Court have overrule and even tomorrow and afraid that this resolution may get place and also afraid that they may claim for autonomous status  like of Mizoram and Tripura is a matter of great concern and need to taken up emotionally.
Dy CM Chowna Mein said that there is a need of a permanent solution. He referred the many local and political activities held in state against Chakma-Hajong issue in state. The population of chakma-Hajong rise is 24 % may not be possible but may be due to influx of illegal refugees in state in compare of other indigenous tribes of state of the area. Only those who come to state during may be allowed to live while other may be deported, we are protected and in any case we will not allow them land right.
Advocate General of Arunachal Nelay Dutta also address the house who was invited by Speaker to give all aspect of legal battle in court of law in Guwahait High Court and Supreme Court of India. He also suggest some do and donts what to do.
CM Pema Khandu while taking part in the resolution said that we have been hearing the issue for more than 50 years. He said that all numbers and facts and figures of Tibetans are found but in case of Chakma-Hajong are confusing as they came during those days.
Since the students and youths have been fighting for the cause and future of many youths have been damaged. I have also convey our concern to MHA of indigenous people of state. The main issue is ILP, so far citizenship issue is concern the Chakma-Hajong keeping all law and rules, the officials figure is around 65,000 but unofficial is more than lakh.
According to applications 1222 already processes, 900 of hearing completed and sent to MHA this year in two phase. All have been rejected. Rest 322 are also rejected cases would be sent, missing 1588 cases are due to non available of claimant, forms incomplete and other issue.
Relief eligibility certificate, issue by GOI to the Chakma-Hajong during that period of some of them are even not clear and some of them are overwritten or otherwise. We are also fear that out right are not curtailed and in this regard I have already submitted the concern to MHA recently. He also have mentioned about rejected application and if again it is sent back then a official from GoAP is included.
Time have come to finished the issue of Chakma-Hajong, if we continue to debate or else we may see only Chakma-Hajong issue in state which is like a cancer. He also felt to understand why the MLA of Bordumsa-Dayum is not in house. He said that around 8000 Hectare  of land have been damaged in Changlang and also in Namsai district which is not good precedence. We have report of illegal activates and crimes taken up by them.
He requested all embers to be united and try to fight the burning issue of state unitedly.