Itanagar
Recruitment process need to be free from nepotism and favouritism- Khandu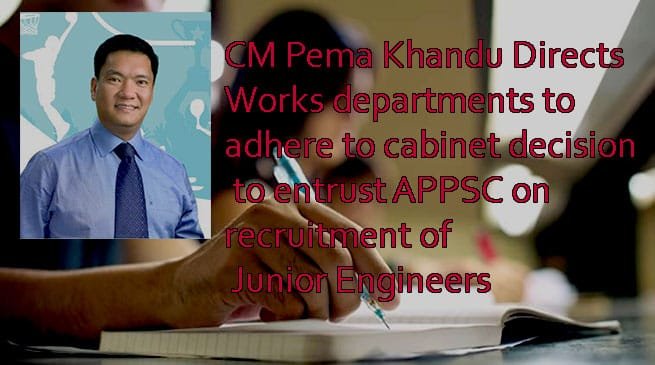 Itanagar
Chief Minister Pema Khandu has directed all the departments to strictly adhere by the Cabinet decision taken recently to entrust the Arunachal Pradesh Public Service Commission with the responsibility of recruitment of all Junior Engineers to Arunachal Pradesh Public Service Commission for ensuring transparent and fair recruitment process.
The cabinet had observed that in order to bring in transformational change in governance and significantly improve the work ethics, work culture and service delivery system in all the departments, the recruitment process need to be free from nepotism and favouritism. The past practice of direct recruitment by the departments have garnered lot of criticisms from all quarters. It has demoralised the genuine deserving  candidates and also showed a bad light on the government functioning, the cabinet had viewed.
Khandu has therefore directed the departments who have issued advertisements for recruitment of Junior Engineers in the department to immediately cancel the process and place the vacant post to Arunachal Pradesh Public Service Commission for filling up the same.
He also requested the Chairman APPSC to immediately issue notifications/advertisement for the vacant posts as and when the department places the requisition.