North East
Rail Service in Lumding-Silchar Hill Section Disrupted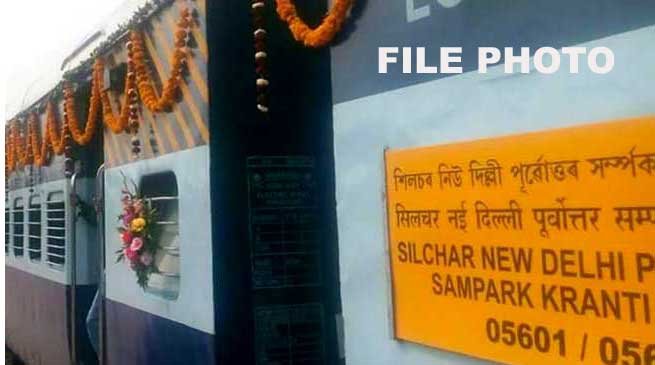 Guwahati
Rail service in Lumding – Silchar hill section which was disrupted today as one pair wheel of luggage cum parcel van of 15601 Poorvattar Sampark Kranti Express derailed at about 01.50 hrs between Mahur and Phiding station about 83 km from Lumding in the Lumding – Silchar hill section under Lumding Division of N.F.Railway today. The train comprising 21 coaches had left Silchar at 18-30 hrs yesterday for New Delhi.
Train services over Lumding – Silchar hill section are being controlled again following the derailment. All passengers on board the train are safe. There are no injuries to any passenger. The train has been taken back to New Haflong station where all facilities like tea, snacks, milk water etc are being made available to passengers.
Weather condition continues to remain very inclement in the affected areas and road communication also remains disrupted to the Barak Valley. In the meanwhile the derailed luggage cum parcel van has been re-railed at 08.00 am, while work is in progress in full swing at the affected location under close supervision of Chief Engineer Construction. General Manager, N. F. Railway alongwith his team of officers, who had left from Maligaon at 04.15 am has reached site and is personally monitoring restoration work.
The following trains have been cancelled / regulated in view of the derailment:
12501 Poorvattar Sampark Kranti express of 26.04.16 scheduled to leave Guwahati at 06.15 hrs has been rescheduled to leave at 22-15 hrs from Guwahati
25657 Guwahati – Silchar Kanchanjungha Express of 26.04.16 will remain cancelled between Guwahati and Silchar
25658 Silchar – Guwahati Kanchanjungha Express of 27.04.2016 will remain cancelled between Silchar and Guwahati.
55615 Guwahati – Silchar fast passenger of 25.04.2016 which was rescheduled to leave from Guwahati at 10.30hrs on 26.04.16 has been cancelled
55616 Silchar – Guwahati fast passenger of 26.04.2016 will be short terminated at Chandranathpur and will return to Silchar as special train.
Helpline nos. at Guwahati – 0361 2731621, 2731622, 2731623.
Helpline nos. at Lumding – 03674 263526, 263126, 263120
Helpline nos. at Silchar – 03842 245414, 245419, 245423.
Helpline nos. at Badarpur–  03842 269546, 269547, 269548.