Itanagar
Protest, dharna against CAB continue in Arunachal Pradesh
In Arunachal Pradesh, the NESO bandh call is being led by AAPSU, the Apex student body of the state.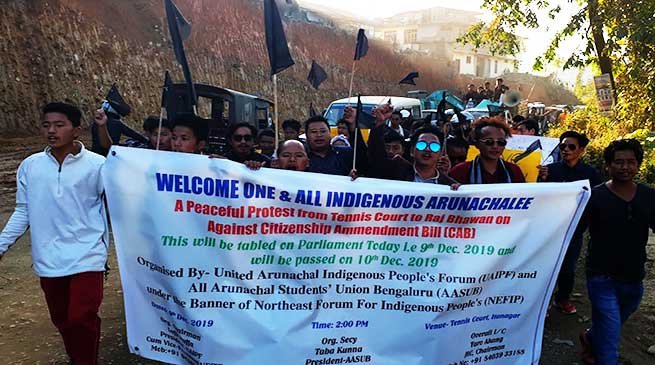 Itanagar              By Manoj Singh
Protest, dharna, rallies against the Citizenship Amendment Bill (CAB)-2019 continue in Arunachal Pradesh.
The United Arunachal Indigenous People's Forum along with few others organisation on Monday took out a protest rally at the state capital against the  Citizenship Amendment Bill (CAB) which was presented by Union home minister Amit Shah in the Lok Sabha.
The forum led by its president Laffe Paffa, started the rally from Tennis Court, holding  Black flags and anti-CAB placards, shouted slogans against the BJP Govt of Centre and State.
Watch Video
However, they were stopped near the Raj Bhavan by the security forces.
Earlier, talking to reporter, Paffa said that BJP led Central Government is misleading the people of North East on CAB.
"You (Union Home Minister Amit Shah) cannot  distinguish NE….because seven sisters  is one. If Assam is burning (on CAB), Arunachal being a neighbouring state will feel the pain. We strongly oppose introduction of CAB ," he stated.
Meanwhile, talking to reporters state Home Minister Bamang Felix told that " in view of tomorrow's -hour NE bandh called by the North East Students' Organisation (NESO) against CAB, adequate security arrangements have been done to maintain peace and tranquillity.
In Arunachal Pradesh, the NESO bandh call is being led by AAPSU, the Apex student body of the state.
"All the district administrations have been directed that peace and tranquillity should not breached,"
The Government introduced the CAB, 2019, in the Lok Sabha on Monday with 293 MPs voting in favour and 82 members opposing it.
The Bill seeks to amend the Citizenship Act, 1955, in order to grant Indian nationality to Hindus, Sikhs, Buddhists, Jains, Parsis and Christians, who are 'forced to come to India' following religious persecution in Pakistan, Bangladesh and Afghanistan.
The proposed legislation will not apply to tribal area of Assam, Meghalaya, Mizoram or Tripura as included in the Sixth Schedule to the Constitution and the area covered under the Inner Line notified under the Bengal Eastern Frontier Regulation (BEFR), 1873.