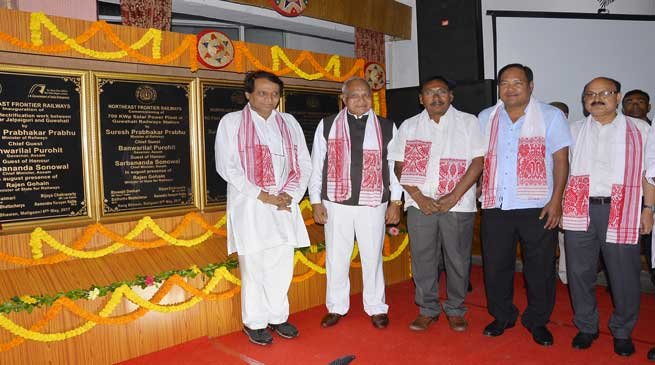 Guwahati
The Union Railway Minister Suresh Prabhakar Prabhu today announced the commencement of work of the much-awaited Railway Electrification from Raninagar Jalpaiguri to Guwahati at a function held at Rang Bhawan, Maligaon this evening.
Honourable Governor of Assam,  Banwarilala Purohit, Minister of State for Railways Rajen Gohain, Member of Rajya Sabha Biswajit Daimary, Assam MLAs Siddhartha Bhattachrya & Ramendra Narayan Kalita were among the other dignitaries present at the function.
The Railway Minister also commissioned 700 KWp grid-connected solar power plant at Guwahati Railway Station and inaugurated, 1st class & 2nd class waiting halls at Harmuti station , a R.O. plant at New Tinsukia station and  a Digital Chart Display at New Tinsukia station.
The Railway Minister later addressed a press conference where he announced that Railway will consider running a tourist train connecting all the places visited by great Vaishnavite Saint, Srimanta Sankadev as suggested by Honourable Governor in his speech.