North East
Prabhu Announced Rs. 5000 crore joint venture with State Government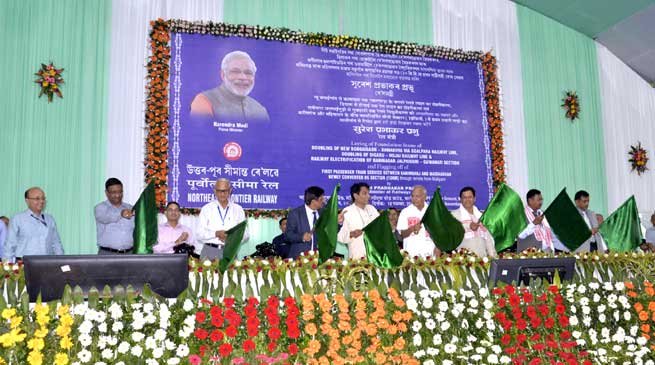 Guwahati
Announcing a slew of steps for rapid and wide scale development of rail connectivity in the northeastern region, the Minister of Railways, Suresh Prabhakar Prabhu today announced a Rs. 5000 crore joint venture with State Government to construct four elevated railway tracks between Kamakhya and New Guwahati to eliminate 12 level crossing gates in Guwahati city.
The Minister made the announcement while laying the foundation stone for the project of doubling of railway line from New Bongaigaon to Kamakhya via Goalpara Town and the doubling of railway line from Digaru to Hojai at a glittering function held at the RPF Parade Ground at Maligaon today. He also laid the foundation stone for much-demanded Railway Electrification project for Raninagar Jalpaiguri – Guwahati via Rangiya railway line and flagged off the first passenger train services on the 10 kilometre Karimganj – Maishashan newly converted broad gauge section in Barak valley of Assam.
Prabhu said, construction of the elevated tracks connecting Kamakhya and New Guwahati would decongest city roads, free up railway land and enable railways to develop Guwahati station as a commercial hub. He also said that the new projects would keep provisions for connectivity with proposed metro.
The function was attended by Honourable Governor of Assam, Banwarilal Purohit, Chief Minister of Assam Sarbananda Sonowal, Minister of State for Railways Rajen Gohain, General Manager of N. F. Railway Chahatey Ram, General Manager of N. F. Railway (Construction) H. K. Jaggi, Chief Managing Director of Rail Vikash Nigam Limited (RVNL) S. C. Agnihotri, other senior railway and RVNL officials, host of invited guests and public.
Speaking in the function the Governor of Assam, Shri Banwarilala Purohit congratulated N. F. Railway team and Railway Minister for being able to deliver many projects in northeast on time and expressed hope that under the leadership of Shri Prabhu, Shri Rajen Gohain and Shri Sarbananda Sonowal the region would see many more development in the future.
While thanking the Railway Minister for his initiatives in development of rail network in the northeast, the Chief Minister, Shri Sarbanada Sonowal emphasized on speedy completion of all railway projects in the state. He also requested the Railway Minister to take up construction of railway line so that every district headquarters of the state is connected with railway line. The Chief Minister also requested Shri Prabhu to initiate steps involving railways for skill development of the youth of the region.