Itanagar
Potom carried out eviction in RWD colony at Karsingsa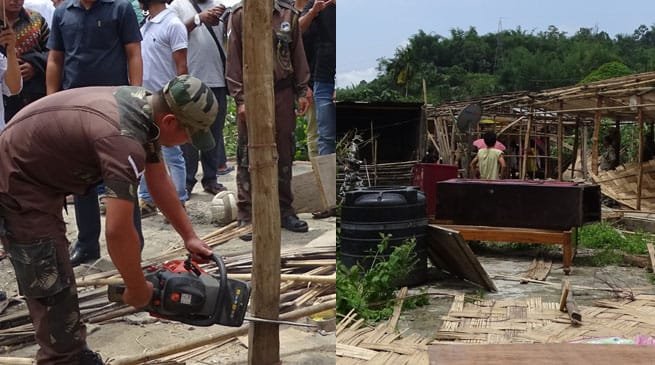 Karsingsa
Additional District Magistrate cum Chief Estate Officer Talo Potom today carried out eviction in RWD colony of Karsingsa.
11 structure, four boundary wall, other assets, garden and other fencing and boundary created in between the RWD colony since many years.
Potom while briefing the media person at the eviction site said that the government of Arunachal Pradesh have allotted around 19905 sqmtrs of land to RWD department in the year back in 1987. There have been since then lots of encroachments were done. A total of 33 OBT/SPT and other structure were constructed there.
The eviction is being carried for those erected well within the allotted plot of land of RWD, there have been case in the High court, then to DC appellate court and to his own court, several hearing were made and disposed off. The eviction was lying pending last many years and many times were given to the encroachers, The land of RWD is fully demarcated and encroachments have erected wall and constructed dwelling Potom said.
The normal case of eviction is not being done at present but since this case have been disposed by the court of law so it was necessary and is being done today. He said that there was some restrain from the locals initially but the eviction is going on smoothly with the help of police, para-military and PPPF Potom said.
Potom further appeal one and all not to encroach upon allotted land and one or other day the law will take its own course of action.