National
PM Modi visits Siachen Survivor Hanuman Thappa in hospital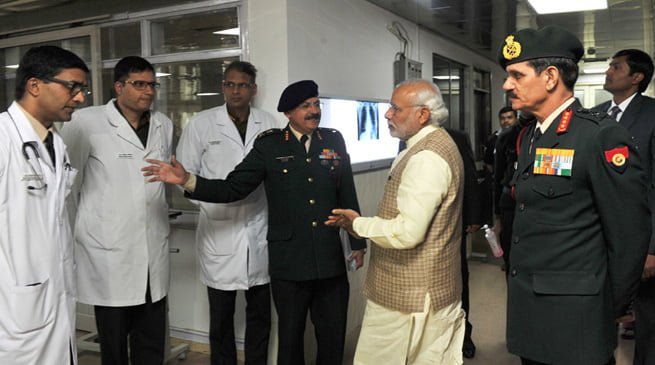 New Delhi
The Prime Minister, Shri Narendra Modi, today visited Siachen avalanche survivor, Lance Naik Hanuman thappa, in hospital. The soldier was airlifted from the glacier and admitted to the Army R&R Hospital in New Delhi earlier today.
The Prime Minister was briefed on the condition of Lance Naik Hanuman Thappa. He spent about ten minutes with the soldier. He met the team of doctors and medical staff attending to Lance Naik Hanuman Thappa, and emphasized that no effort should be spared in his treatment.
"No words are enough to describe the endurance and indomitable spirit of Lance Naik Hanuman Thappa. He is an outstanding soldier," the Prime Minister said. The Chief of Army Staff, Gen. Dalbir Singh was also present.
Lance Naik Hanaman thappa who was miraculously found alive after remaining buried under snow for six days. He  was flown out from the site on Tuesday by helicopter along with a medical specialist to the Siachen Base Camp, from where he was then transferred to Delhi by a fixed-wing aircraft of IAF along with a critical care specialist of the force and a medical specialist from the base camp.
"He has been placed on a ventilator to protect his airway and lungs in view of his comatose state. He remains extremely critical and is expected to have a stormy course in the next 24 to 48 hrs due to the complications caused by re-warming and establishment of blood flow to the cold parts of the body," it said.
The soldier, who was earlier declared dead by the authorities, was found to be conscious but drowsy and disoriented on Monday after he was located during rescue operation.
Koppad is being treated by a team of intensivists, neurologist, nephrologist, endocrinologist and surgeons. He has been administered fluids, drugs to bring up his blood pressure, besides antibiotics.