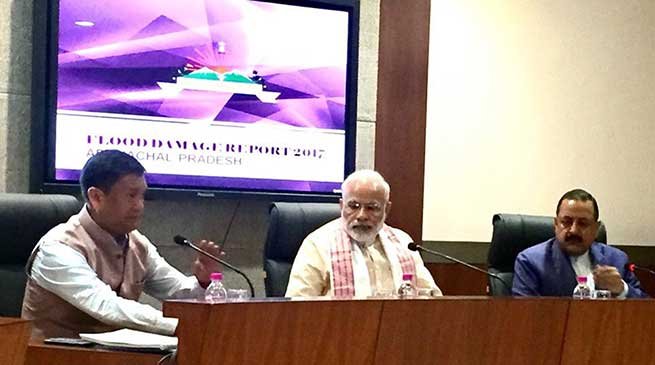 Guwahati
Prime Minister Narendra Modi has assured to workout a long term solution to the recurring problem of disaster that hits the state of Arunachal every year.
He said this in a meeting with Arunachal Pradesh Chief Minister Pema Khandu here at Assam Administrative Staff College, Khanapara, Guwahati today. Modi was in Assam to take stock of the flood situation of Northest region. Arunachal Pradesh team led by Khandu was met separately by the Prime Minister and had a very fruitful discussion for about an hour.
In his submission, the Chief Minister drew the attention of Prime Minister on the recurring problem of huge disaster the state faces every year. He sought the union government's intervention for a foolproof system in place for not only averting the natural disasters but also for having a very quick and robust relief and damage control system.
"Damages caused over the years have accumulated a severe burden to the state thereby creating a huge gap. The State is left with a mammoth task of restoring damages, which it is unable to carry out due to its meager resource" Khandu informed. He requested the Prime Minister for a comprehensive package to Arunachal Pradesh to meet up the huge gap that has accumulated over the years.
Khandu further requested for deputing the Inter-Ministerial Central team to assess the damages during monsoon period so that accurate assessment of damage could be done.
While referring to NDRF and SDRF norms that does not permit restoration works in certain sectors, the Chief Minister requested Prime Minister's intervention in relaxing the norms in context of Arunachal Pradesh. "Since these basic services are inevitable in nature and considering the meager resource of the state government, these norms need to be relaxed in context of Arunachal Pradesh", CM pleaded.
He appealed the PM for a special consideration for the damages that occurred in the state within a span of two to three months this year due to unprecedented incessant rain.
Khandu also sought for mitigation funds from the centre prior to any disaster so that the state could gear up for preparedness instead of engaging itself for restoration works after the damages are occurred. "A provision of advance funding for mitigation plan, advisory warnings and other preparedness activities will lessen the damage and avoid human losses", Khandu said while justifying his request.
The Prime Minister assured all possible support to the state and said that the centre is committed to bring in a lasting solution to the flood situation of the state and exhaust all means to see that the state coup up with the present situation.
The Prime Minister was accompanied by Union Minister of State for PMO, DoNER Jitendra Singh, National Disaster Management officers while from the state, CM was accompanied by Chief Secretary, Principal Secretary Home, Secretary Disaster Management, Secretary Planning, Secretary to CM and officers from disaster management department during the meeting.