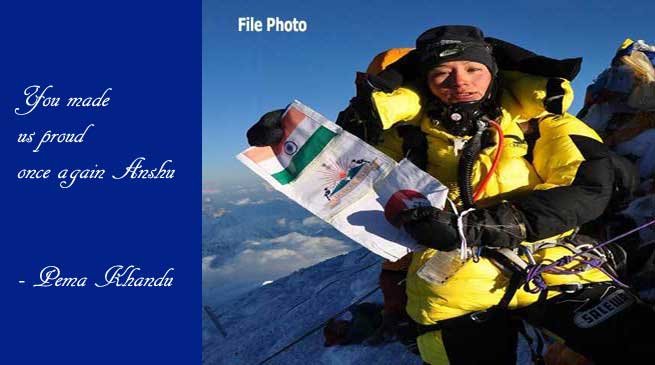 Itanagar 
Chief Minister Pema Khandu has profusely congratulated mountaineer Anshu Jamsenpa on her stupendous feat of successfully climbing the world's highest peak for the fourth time.
As per reports Jamsenpa from Bomdila in West Kameng district unfurled the Indian tricolor on Mt. Everest at 9 am (IST) Tuesday for the fourth time – setting a new record for Indian mountaineers.
"You made us proud once again Anshu Jamsenpa by unfurling the tricolour for the fourth time atop the world's highest peak! My heartiest congratulations to our proud daughter of Arunachal. I wish you all success in your future endeavour and may you keep making our nation proud," said Khandu in a congratulatory message today.
Jamsenpa had earlier scaled Mount Everest thrice. The 32-year-old, mother of two teenage girls, conquered the world's highest peak twice in 10 days between May 12 and 21, 2011.She made her third successful attempt on May 18, 2013.
"I have been told that Jamsenpa is motivated and energized enough to try a double ascent if conditions remain favourable. I wish her success and may the Almighty bless her to accomplish her dream. It will be a proud moment for Arunachal Pradesh and India," Khandu added.
He said that the people of Arunachal Pradesh and the state government are keenly following her each step and extend solidarity with her on this mission.
In fact, Jamsenpa's double ascent expedition was flagged off this year by His Holiness Dalai Lama on 2nd April 2017 from Guwahati. If she is successful with her double ascent this time, Jamsenpa will add to her record of climbing Everest five times.