Arunachal
Pasighat- Yaad Karo Qurbani Observed at Yagrung Village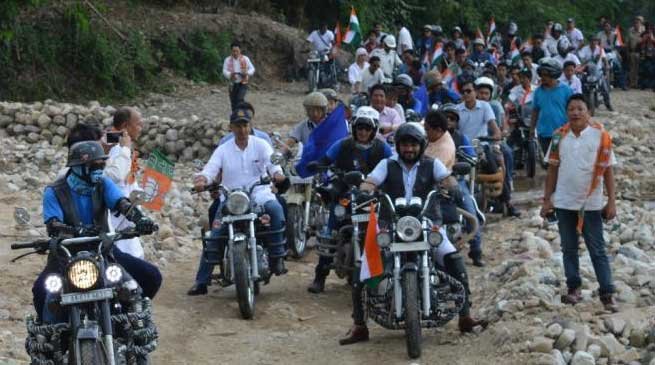 Pasighat
Under the initiative of Prime Minister Narendar Modi ji, the Yaad Karon Qurbani programme was observed at Yagrung village near Pasighat, East Siang District on the occasion of 70th Year of Indian Independence with the visit of Shri Babul Supriyo, Union Minister of State for Heavy Industries and Public Enterprises to pay obeisance to the birth place of Late Matmur Jamoh, the freedom fighter   who was born in Yargrung village.The event was organised under the aegis of Adi Baane Kebang (ABK).
As per the instruction issued by the Prime Minister of India,  the minister undertook the Tiranga Yatra carrying the national flag on a motor cycle from Pasighat   to Yagrung with members of Royal Siang Riders Bullet Club of Pasighat and other  riders who took part in the Tiranga Yatra.  There were more than 200 hundred riders comprising of general public who voluntarily took part
in the event honouring late Matmur Jamoh.
In a memorandum submitted to the Hon'ble Prime Minister of India, through the Hon'ble Union Minister of State for Heavy Industries and Public Enterprises, Shri Babul Supriyo ji, the Adi Baane Kebang appealed to the Prime Minister's office to give official recognition to the other accomplices of Matmur Jamoh who partook in the assassination episode of the British official Noel Williamson 1911.
Additionally, it also requested the PMO to accord due recognition to other Adi martyrs who lost their lives in the three Anglo – Adi wars that took place in between 1858 to 1894 . While doing so, ABK also fervently urged the PMO to declare the two historically important villages of Kebang and Dambuk as heritage village by building war memorials, Museum and Interpretation centers so that these two villages become symbolic memorials of valiant resistance effort of the Adi people against the mighty imperial British power.
In his speech, the Hon'ble Union Minister of State for Heavy Industries and Public Enterprise, Shri Babul Supriyo, assured to pass on the memorandum to the PMO and do whatever is possible from his end to realise the demand made in the memorandum. He also assured the gathering that he will inform the concern Ministry about the lack of road connectivity to the historically important Komsing village in Siang district.
The gathering was also addressed by Shri Tapir Gao, former Member of Parliament and President, BJP, Arunachal Pradesh. In his speech he lauded the Yaad Karon Qubarni initiative of the Prime Minister Modi and shared that the Adi people are indeed deeply touched by the visit of the Union Minister to pay obeisance to a martyr who has not been given such respect in the last 70 years. Shri Gao opined that it was indeed a proud moment for the Yagrung village and for the Adi community as a whole.