Arunachal
Pasighat- XI General Conference of Adi Agom Kebang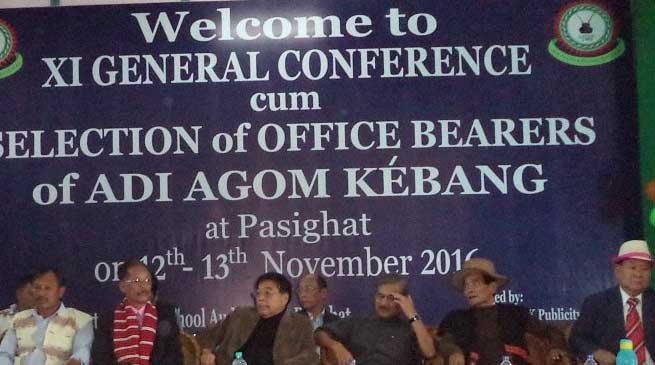 Pasighat
A language is at risk of being lost when it no longer is taught to younger generations stated Gegong Apang, former Chief Minister of Arunachal Pradesh while gracing as chief guest on the inaugural function of two-days long XI General Conference of Adi Agom Kebang (AAK) begun on Saturday  at the IGJ Hr. Sec School auditorium, Pasighat.
In his inaugural speech Apang said when a language dies out, future generations lose a vital part of the culture that is necessary to completely understand it. language is an important part of any society, because it enables people to communicate and express themselves and to promote Adi literature and culture, the present modified Roman script should be approved and adopted in Adi language. He further opined that Tani script needs to be enlisted in 8th schedule of the Indian constitution, quoting the famous saying of Napoleon "There is nothing impossible in my dictionary." The former CM advised the AAK members to rededicate themselves in the field of literary. Apang released "Script for Adi software" on the occasion, developed by Prof. Ani Taggu, HoD, Computer Engineering, RGU.
Earlier, Guest of Honour Prof. Tamo Mibang, Vice Chancellor, RGU said Adi people are known for rich cultural and intellectual developments. Our language started with Roman script since 1947 and yet to achiee the goal in the field of literature. Golgi Bote Talom Rukbo originated the idea of Tani script but not continued. We have already achieved development in politics, business and earning source but sill there is a long way to develop script, literature and language due to unnecessary controversy and contradiction. Instead of preserving and promoting own language, we are losing our steps day by day otherwise till date, hundreds of novels and books would have been written in Adi. Mibang stated the script is very common to all and suggested other tribes to adopt. Learning more and more languages are good but we should protect and preserve our own language, added, Mibang.
Gobindo Tayit, Ileshwar Doley and Jayanto Kamat from Mishing Agom Kebang (MAK) said Adi-Mishing language could be preserved by common script.
ABK President Kangir Jamoh traced the history of development and use of Roman script in communication of Adi dialect and remembered esteemed contributions in the field by Dukyon Lego and Okep Tayeng in 1940. In present days, we feel easy and depends on other' languages and if it continues, one day we will lose our language and identity. Jamoh expressed hope that AAK would promote and preserve Adi language and literature and make radical improvement and progress in coming days.
AAK President Nini Pertin, retired Director of Elementary Education Bodong Yirang and former Information Commissioner Bani Danggen expressed serious concern about endangered condition of Adi language. They suggested the upcoming writers to write books on history, grammar, poem, novels, creative short stories on socio-cultural and literary aspects of the community. Organizing chairman and Secretary Okom Yosung and Tabung Ering respectively also spoke on the occasion.
A new 'Bye-law' of AAK was approved and adopted unanimously and Prof. Ani Taggu during technical session made aware of the Modified Roman Script software for Adi language through power point presentation.
The draft of the new 'Bye-law was presented by the AAK General Secretary Obang Tayeng