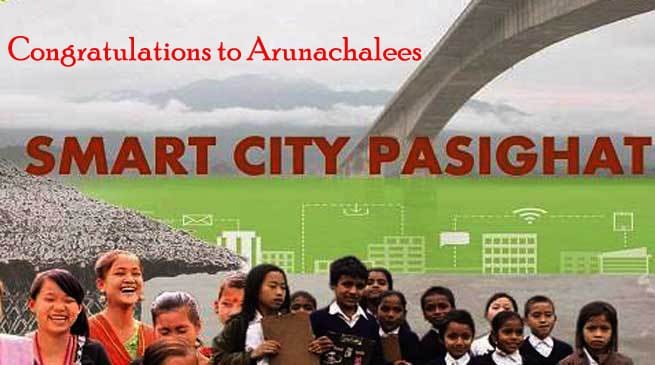 New Delhi
At last Pasighat got a place in the list of Smart cities. Central government today announced another list of 30 cities for development as smart cities taking the total cities picked up so far to 90 under Smart City Mission launched on June 25, 2015. Pasighat is one of these thirty cities.
Announcing the new batch of smart cities at a National Workshop on Urban Transformation here today, Minister of Urban Development and Housing & Urban Poverty Alleviation  M.Venkaiah Naidu said that 45 cities contested for 40 available smart city slots but only 30 were selected to ensure feasible and workable plans that match the aspirations of the citizens as directed by Prime Minister  Narendra Modi while launching the mission.
As of now 90 smart cities have been added to the Centre's programme
Thirty new cities were added to the Centre's Smart Cities Mission and total investment of Rs. 57,393 crore was announced by Union Urban Development Minister M. Venkaiah Naidu on Friday, taking the total number of smart cities to 90.
Read this also- Pasighat Smart City- Khandu Congratulates people
Marking the second anniversary of the launch of the Smart Cities Mission, Mr. Naidu announced the new cities added to the scheme.
The 30 cities announced today in the order of marks scored are:
| | | |
| --- | --- | --- |
| S.No | City | State/UT |
| 1 | Trivendrum | Kerala |
| 2 | Naya Raipur | Chattisgarh |
| 3 | Rajkit | Gujarat |
| 4 | Amaravati | Andhra Pradesh |
| 5 | Patna | Bihar |
| 6 | Karimnagar | Telangana |
| 7 | Muzaffarpur | Bihar |
| 8 | Puducherry | Puducherry |
| 9 | Gandhinagar | Gujarat |
| 10 | Srinagar | Jammu & Kashmir |
| 11 | Sagar | Madhya Pradesh |
| 12 | Karnal | Haryana |
| 13 | Satna | MP |
| 14 | Bengaluru | Karnataka |
| 15 | Shimla | Himachal Pradesh |
| 16 | Dehradun | Uttarakhand |
| 17 | Tiruppur | Tamil Nadu |
| 18 | Pimpri chinchwad | Maharashtra |
| 19 | Bilaspur | Chattisgah |
| 20 | Pasighat | Arunachal Pradesh |
| 21 | Jammu | Jammu & Kashmir |
| 22 | Dahod | Gujarat |
| 23 | Tirunelveli | Tamil Nadu |
| 24 | Thootukkudi | Tamil Nadu |
| 25 | Tiruchirapalli | Tamil Nadu |
| 26 | Jhansi | UP |
| 27 | Aizawl | Mizoram |
| 28 | Allahabad | UP |
| 29 | Aligarh | UP |
| 30 | Gangtok | Sikkim |