Arunachal
Papum Pare Police Seized Unlicensed Gun, Bikes and Wines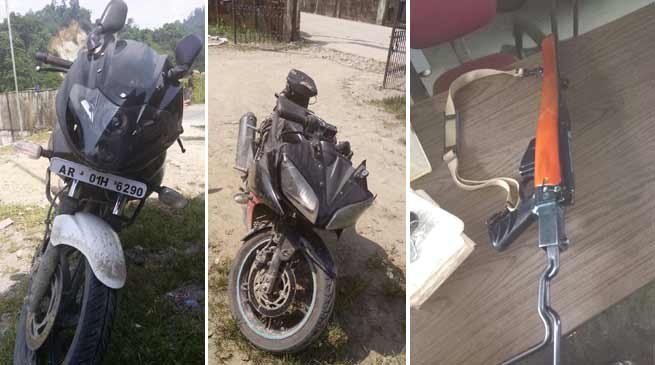 Itanagar
Papum Pare police under the supervision of SP T Amo have further intensified checking last couple of days & seized Unlicensed Gun, Three nos Motor Bikes and Wines.
One  315 rifle with butt No. AB1601349 without licence from the possession of Sri Bamang Taigh of Sangram, Kurung Kumey Dist .
A case is being registered against him after proper enquiry as the person showed arms licence only of pistol & revolver issued by ADC Kurung Kumey.
Further  three Motor Bikes have also been seized from three persons who were not having RC book.
They are Biku Tara village Papu nullah Naharlagun motor cycle R15 Engine No. 1GK1027658. Chasis No. ME11CK057D2009095 colour Black,
second one is Naku Rake Hapoli motorcycle bajaj pulsar 220 Regn No. AR-01H 6290 Engine No. DK 83FB15908 Chasis No. MDZA13EZ3FCB28960
Ansd third one is Baboa Ĺapung Seppa motorcycle Bajaj pulser Regn No. AR-05/2234 Engine No.MDZCDE41898, Chasis No. MDZA120Z0DCH44706 colour red .
The above seizures were made by ASI Tate Nabum and his team at Naka at Kholla Camp Midpu under Doimukh PS. WT messages sent to all OC PS AP and Assam in this regard to ascertain if any one of these bikes were stolen/missing from their PS jurisdictions.
 Further during surprise checking 35 beer bottles were also seized from four gumtis run by women in between Gumto and Doimuk by Insp B Tangzang OC PS Doimukh n his team.