National
PA Sangma is no more, but he will always remain alive in our memories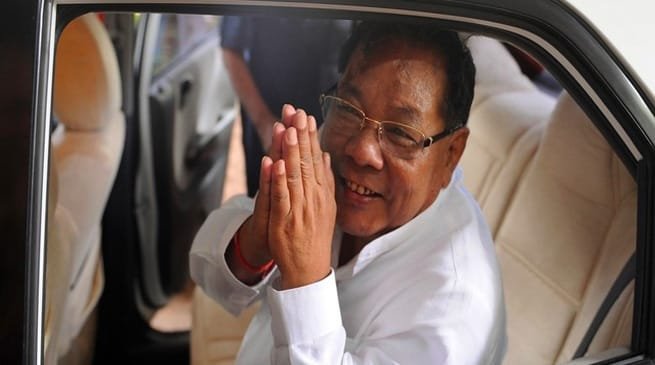 Guwahati
Former Speaker of Lok Sabha PA Sangma passed away in New Delhi today. The Lok Sabha has been adjourned till March 8 as a mark of respect to Sangma. Today he is not among us, but he will always remain alive in our memories.
Read the Biography of PA Sangma
Purno Agitok Sangma was an Indian politician who was Speaker of Lok Sabha from 1996 to 1998 and Chief Minister of Meghalaya from 1988 to 1990. He was a co-founder of the Nationalist Congress Party (NCP) and remained a member of the Lok Sabha for eight terms, i.e. 6th, 7th, 8th, 10th, 11th, 12th, 13th, and 14th Lok Sabha. Currently he represents the Tura (ST) constituency in the West Garo Hills district in the sixteenth Lok Sabha  He was also the member of Mamata Banerjee's  AITMC/TMC. He also founded National People's Party on 6 January 2013 with Book as its National symbol.
PA Sangma was born on 1 September 1947 in village Chapathi in West Garo Hills, Meghalaya to Dipchon Ch. Marak and Smt. Chimri A. Sangma. After completing his graduation in B.A. (Hons.) from St. Anthony's College, Shillong. Passed away on March 04, 2016 at New Delhi after brief illness.
In 1973, he became Vice-President of the Pradesh Youth Congress in Meghalaya and became the General Secretary the next year. He served as the General Secretary of the Pradesh Congress Committee of Meghalaya from 1975 to 1980.
In 1977, he was elected to the 6th Lok Sabha from Tura Lok Sabha constituency and remained a member of the Lok Sabha until 14th Lok Sabha, except for the 9th Lok Sabha. From 1980 to 1988, he served the Union Government of India under various capacities. He served as the Chief Minister of Meghalaya from 1988 to 1990. In 1991, when he was elected to the Lok Sabha again, he again served the Union government until 1996 when he became Speaker of Lok Sabha.
The NCP general secretary was expelled from the Congress on 20 May 1999, along with Sharad Pawar  and Tariq Anwar for raising the banner of revolt against Sonia Gandhi over her foreign origin issue. He was one of the founders of Nationalist Congress Party (NCP) along with Sharad Pawar and Tariq Anwar in 1999, after their expulsion. In January 2004, P.A.Sangma created a split in the NCP. This happened after Sharad Pawar  became close to the NCP's former rival Sonia Gandhi. After losing a battle for the NCP election symbol, Sangma later merged his faction with the current Chief Minister of West Bengal and TMC chief Mamta Banaerjee,s  Trinamool Congress, forming the Nationalist Trinamool Congress. He resigned from his Lok Sabha seat on 10 October 2005 as a member of AITMC/TMC, and was reelected as NCP. candidate on February 2006.
In the Lok Sabha  elections 2004 Sangma was one of two NTC MPs elected. He resigned from 14th Lok Sabha in March 2008, to take part in Meghalaya Legislative Assembly election, 2008
Sangma resigned from NCP on 20 June 2012 after opposition from Sharad Pawar over his Presidential candidature. It is to be seen how a founder member's resignation is taken by NCP as founder member. Sangma whose candidature has been proposed by AIADMK, and BJD and later, supported by BJP as well, contested against Pranab Mukherjee   for the post of the President. He lost to Pranab Mukherjee   in the results declared on 23 July 2012. He charged Pranab for graft. Former Union Minister and a Congress tribal leader Arvind Netam also came strongly in favour of the candidature of Sangma for the presidential post. On 5 January 2013, Sangma launched National People's Party on national level. The National People's Party managed to get 2 seats of Meghalaya Legislative Assembly in the Meghalaya Legislative Assembly election, 2013.
On 22 July 2012, Pranab Mukherjee   was declared the victor over P.A. Sangma, crossing the half-way mark of 525,140 votes after votes in half the states had been tallied. While securing the requires quota, Mukherjee secured 558,194 votes to Sangma's 239,966. After the final results were published, Pranab Mukherjee  secured 7,13,424 value of votes, while P. A. Sangma secured 3,17,032 values of votes. The Returning Officer for the Election, and the Secretary General of the Rajya Sabha, Vivek Agnihotri, then, declared Pranab Mukherjee   President elect to the Office of the President of India, as the 13th President of India.