National
Niti Ayog propose Multipurpose River valley Project for Siang River,  Khandu Suggests First Visit  Arunachal, meet people and aware them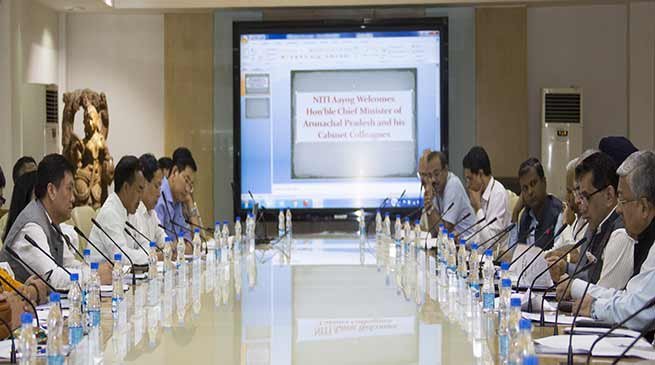 New Delhi
Chief Minister Pema Khandu along with his state cabinet colleagues today attended a presentation by NITI Aayog here on proposed Multipurpose River Valley Project for Siang River. However Chief minister suggested the NITI Aayog to visit Arunachal, meet people and to make aware people regarding the technical benefits of dams.
Giving a brief overview of the project, CEO NITI Aayog, Amitabh Kant urged on the need to make the project viable and feasible for the people of Arunachal Pradesh.
The proposed project is estimated to be 300 metre high dam with power generation capacity of 10000MW. The project being a multipurpose project will moderate flood and erosion providing relief in downstream river reaches of Arunachal and Assam.
The project is proposed at Siang Stage-II location, which will be built as a single storage project instead of earlier proposed two separate projects Stage-I and Stage-II on Siang river thereby reducing the cost of project by 25% and increasing the storage capacity of the dam.
The state will benefit through its 12% free power share that comes to about Rs 2400 crore per annum as revenue. Another Rs 200 crore per annum will be added through its 1% free power share, which will be used exclusively for local area development.
Besides Rs 4500 crore proposed for R&R package, the project will attract an investment of about Rs 80000 crores with huge employment generation and creation of several economic opportunities.
Chief Minister informed that the people in the state carries lots of negative notions regarding large dams and stressed on spreading adequate awareness to dispel the fears. He suggested the NITI Aayog to visit Arunachal, meet people and to understand the nature of their opposition. He also suggested them to make aware people regarding the technical benefits of dams. He further pointed out that sometimes opposition to dam is fuelled by narrow vested political interests and people being gullible fall prey to misinformation.
Deputy Chief Minister Chowna Mein said that we have had enough meetings on dams and stressed that it was time to work on the ground urging that public awareness is the only mean to take people into confidence.
Power Minister Tamiyo Taga stressed on minimum submergence and maximum power generation. He said the people in Arunachal are emotionally tied to their traditional land and loss of livelihood and land could often spiral into emotive issues.
NITI Aayog Vice Chairman, Dr Rajiv Kumar who chaired today's meeting agreed with the suggestions of the CM and his cabinet colleagues about on the spot study and to discuss and convince the people about the proposed project. He agreed to depute a central team to interact with local people and try to convince them about the benefits of the project.
Speaker TN Thongdok, Home Minister Kumar Waii, WRD Minister Kamlung Mossang and RD Minister Alo Libang also spoke on the occasion. PHED Minister Bamang Felix, Education Minister Honchun Ngandam, Art & Culture Minister Dr Mohesh Chai, Chief Secretary Shakuntala Gamlin and Commissioner Power Ashis Kundra also attended the meeting.