North East
NFR Observed 126th Anniversary of Dr B R Ambedkar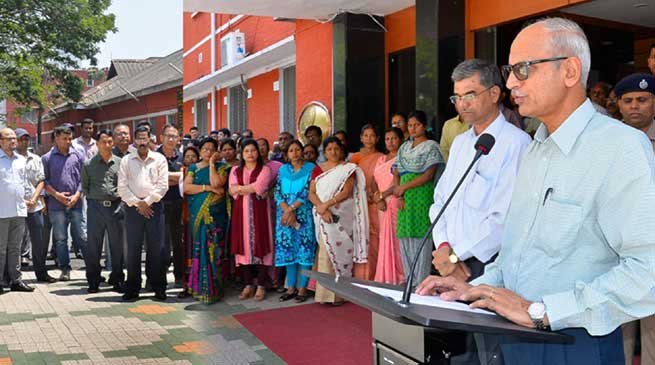 Guwahati 
The 126th Birth anniversary of Bharat Ratna Dr. B.R. Ambedkar was observed in the N.F.Railway Head Quarter complex, Maligaon on Monday. Large numbers of officer and staff were present on the occasion for paying floral tribute to Dr. B.R.Ambedkar.
Shri  Chahatey Ram, General Manager, N.F.Railway inaugurated the programme by lighting the inaugural lamp and addressed the officials present.
About  Dr B R Ambedkar
Born on 14 April, 1891, to parents Ramji Maloji Sakpal and Bhimabai Murbadkar Sakpal in Mhow, Madhya Pradesh, Ambedkar had to face isolation in school because of his caste.
He was not allowed to sit inside his class and was not even allowed to touch or drink water from a vessel that everyone else used. Despite all the hardships in his way, Ambedkar was the only one among his 13 other brothers and sisters who cleared his exams and went to high school. A teacher called Mahadev Ambedkar, who was fond of him, changed his surname in the school records to his own.
He pursued a degree in economics and political science from Elphinstone College, University of Mumbai, and then completed his Masters in Economics (Major) at the Columbia University and Doctor of Science in Economics from London School of Economics with the help of a scholarship.
In 1924, Ambedkar returned to India and founded the Bahishkrut Hitkaraini Sabha for fighting against the caste system.