North East
NF Railway Prosposes to Run Trains in Lumding- Silchar Section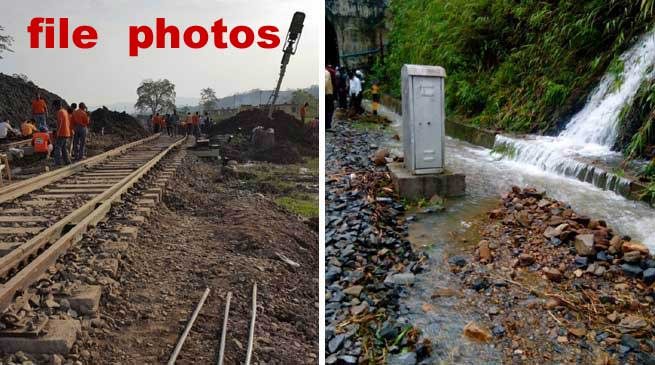 Guwahati
BG Rail Service between Guwahati and Silchar was started in November, 2015.  NF Railway Prosposes to Run Trains in Lumding- Silchar Section, However because of unprecedented rainfall, Lumding-Badarpur-Silchar  hill section experienced heavy rain cuts, landslides and sinkage of track.  This led to disruption of rail connection between Lunding to Badarpur at various places since April, 2016.  While most of the damaged spots have been restored the section from Mahur to New Haflong is posing a serious challenge where substantial work is to be done due to very adverse geographical conditions.
Till the restoration of this part and resumption of regular train services, the N. F. Railway has got in touch with state administration for "Road bridging" of the disturbed section i.e. passengers will avail road transport facility between Mahur and New Haflong and continue their journey beyond by suitably timed trains.  A Special Train is proposed to run from Guwahati to Mahur (no. 05621 / 05622) by which passengers can travel up to Mahur, then board a bus from Mahur to New Haflong and from New Haflong catch the Special Train to Silchar. Similarly, they can avail the special Train running between Silchar to New Haflong (no. 05615 / 05616) to travel up to New Haflong, take a bus from New Haflong to Mahur and board the Special Train to Guwahati. Both these Special Trains will have eight general / sleeper class coaches and will be able to accommodate about 800 passengers.
For this, the N. F. Railway has requested the State Government to provide adequate bus services between Mahur and New Haflong for which passengers will buy tickets and pay separately.
General Manager, N.F. Railway has already spoken to the Chief Secretary, Assam and correspondence has been made to Secretary, Transport, so that adequate bus service is made available between Mahur and New Haflong to facilitate smooth movement of passengers.  The tentative timings of the Special Trains would be as follows:
05621 Special
Stations
05622 Special
Dep 23.55
Guwahati
Arr 17.30
Arr 08.00
Mahur
Dep 11.45
Between Mahur and New Haflong passengers can avail bus services to be provided by State Government paying requisite fare
05615 Special
05616 Special
Dep 10.00
New Halflong
Arr 09.30
Arr 14.30
Silchar
05.00
This is only a stop gap arrangement till full passenger service resumes between Guwahati to Silchar, which is expected to take another 15 days time.